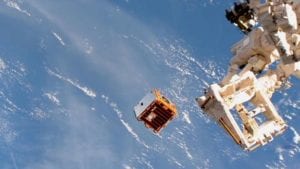 Nanoracks, the commercial leader in low-Earth orbit utilization, has sparked accelerated growth for numerous startup companies since 2009, provided educational opportunities, and driven the market for commercial access to space. And this week Nanoracks-Italy is announcing their expansion of this leadership.
Nanoracks-Italy's mission is to create a sustainable in-space ecosystem with a transdisciplinary global user base. To build on this mission, the Italian Company has signed a Memorandum of Understanding (MOU) for a partnership with IXTAL srl, an academic spin-off focused on understanding proteins, and TissueGraft srl, which is developing biological materials used in tissue engineering and regenerative medicine.
"The areas of focus are fascinating," says Veronica La Regina, Nanoracks – Italy Director Global Engagement (EU). "Nanoracks – Italy is looking at innovative companies to kick-start the creation of a sustainable ecosystem for using microgravity research to solve terrestrial challenges, including new pharmaceuticals, protein growth, and other unique research areas. We are thrilled that these capabilities are available in our local region of Piemonte!"
Nanoracks, a leader in bringing innovative payloads to the International Space Station, knows the challenges faced by payload developers and non-space users alike.
"We are uniquely positioned to contribute to these two talented start-up teams in a number of ways and we are excited to help humankind to achieve its goals in benefiting from the microgravity environment," continues Mike Lewis, Chief Innovation Officer from Nanoracks-US.
Nanoracks will work directly with the teams led by Davide Ferraris, general manager of IXTAL and Francesca Boccafoschi, scientific director of TissueGraft.
"We are thrilled to collaborate with our Nanoracks partners in this important effort. At TissueGraft, our goal is to develop three dimensional biological matrices used to closely mimic native tissues in order to study the effect of microgravity on our experimental settings", said Francesca Boccafoschi.
Davide and Riccardo from IXTAL add, "We are really excited to collaborate with Nanoracks – Italy. This represents for us a great opportunity to extend our research capabilities and services and for the development of new business opportunities, going beyond what we could only have imagined.
"The partnership also represents a virtuous example of what the Region and the cities of Turin and Novara can offer for creating new development opportunities and for fostering innovation with positive effects in the territory. We hope that this represents the starting point of something bigger, and we are looking forward to see what's next."
This initiative is one of the first to be run out of Nanoracks – Italy, a company formed to open European and Asian commercial space markets and the interdisciplinary research community.
IXATL and TissueGraft will open in-space opportunities to their networks throughout the University of Piemonte Orientale (Novara), Fondazione Novara Sviluppo and the innovation pole bioPmed.