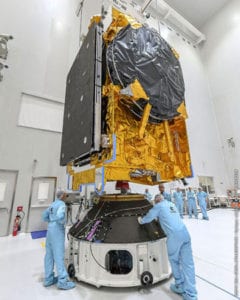 Processing is now underway with the TIBA-1 satellite passenger for Arianespace's next dual-payload Ariane 5 mission, which is scheduled for a November liftoff from the Spaceport in French Guiana.
Preparations so far have included TIBA-1's fit-check – an initial milestone validating the satellite's compatibility with the adapter that will serve as the payload interface with Ariane 5 – which was performed in the Spaceport's S5 payload preparation facility's S5C large clean room hall.
TIBA-1 will occupy the upper passenger position in Ariane 5's dual-payload configuration on the upcoming mission, which is designated Flight VA250 in Arianespace's numbering system. Its co-passenger – Inmarsat's fifth Global Xpress satellite, GX5 – is scheduled to arrive at the Spaceport this week.
Based on the Eurostar E3000 satellite platform, TIBA-1 was developed by Airbus for operation by the government of Egypt and Thales Alenia Space. This communications spacecraft will weigh approximately 5,640 kg. at liftoff and was designed for a service life exceeding 15 years.
Flight VA250 will mark Arianespace's fourth mission in 2019 with a heavy-lift Ariane 5 and the eighth this year across its full family of launchers – which also includes the medium-lift Soyuz and lightweight Vega.