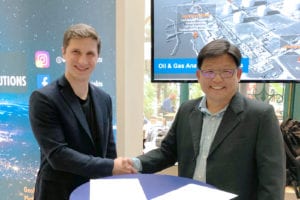 ICEYE has signed a Memorandum of Understanding (MoU) and a commercial reseller agreement with ST Engineering Geo-Insights Pte Ltd. to serve the commercial and government markets in South East Asia. As a part of the agreement, the two companies will provide mutual support to develop the regional and global market for rapid revisit, high-resolution SAR imagery and SAR based geospatial analytics.
ICEYE recently announced its 3 SAR satellite constellation is now available for commercial access, receiving significant attention in the global Earth observation market. ICEYE is creating a growing SAR satellite constellation for frequent and reliable satellite-based information about any location on Earth, regardless of the time of day, and even through cloud cover.
ICEYE is providing commercial data services to both government and industry users. The company is actively increasing the size of its SAR satellite constellation, with two more satellites planned for launch by the end of 2019. ICEYE's small SAR satellites can be manufactured and launched cost-effectively, providing up to 1-meter resolution SAR images.
ST Engineering Geo-Insights Pte Ltd. is a joint venture company formed between DSO National Laboratories and ST Engineering's Electronics sector. Leveraging the strengths of its parent companies, ST Engineering offers geospatial analytics and value-added services based on satellite imagery data to address growing global demands for timely insights through its brand Geo-Insights.
With this partnership, both parties are in a better position to exploit SAR imagery to provide insights for customers in the Energy and Infrastructure/Smart Cities markets.