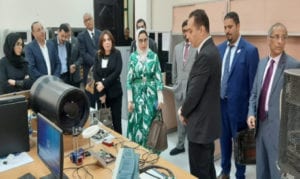 The head of the Egyptian Space Agency announced that Egypt intends to send an astronaut to the International Space Station (ISS) during a visit to Cairo by a delegation from the UAE Space Agency (UAESA) on 16 October 2019.
Mohammed El-Qousy, the Director-General of the Egyptian Space Agency, said that Egyptian astronaut candidates would have to pass a stringent set of physical, psychological, and technical tests before going on to formal astronaut training and final selection, presumably in Russia.
Egypt and Russia enjoy close ties, especially in the space sector in which Russia has provided several Earth observation satellites, though talks between Cairo and Moscow regarding Egypt sending astronaut candidates to Russia have not been previously reported.
The announcement comes on the heels of the successful return to Earth by the UAE's first ever astronaut, Hazza Al Mansoori, after an eight day stint on board the ISS, as well as high-profile visits to Saudi Arabia and the UAE by Russian President Vladimir Putin, who proposed further space cooperation between Russia and those Gulf states. During his visit to Riyadh, President Putin offered to train and launch a Saudi astronaut to the ISS, and it is understood that Moscow has made a similar proposal to Bahrain.
The UAE has paid the Russian space agency millions of dollars for the training and launch of Hazza Al Mansoori to the ISS, and presumably Moscow expects similar payments be made by Bahrain and Saudi Arabia should they choose to send people to Russia for similar missions. Given the continuing sensitive political situation in Egypt regarding growing public concerns about government corruption and expenditures, as well as the delicate state of the Egyptian economy, it is far from clear how credible the Egyptian Space Agency announcement is unless there is the prospect that Russia will train and send an Egyptian astronaut to the ISS for free or at a reduced cost.
Mohammed El-Qousy hailed the importance of Egyptian-Emirati space cooperation, emphasizing that the two countries should integrate the activities of their space agencies and establish a diplomatic bloc of Arab space agencies within the United Nation's Committee on the Peaceful Uses of Outer Space (UN COPUOS).
The UAESA delegation visiting the Egyptian Space Agency at its headquarters in the Egyptian Space City outside of Cairo also discussed pan-Arab space cooperation with their Egyptian counterparts, including the status of the Satellite 813 project, an environmental monitoring Earth observation satellite, that was established in early 2019 by a consortium of Arab space agencies.
Nasser Al Rashidi, Director of Policy at the UAESA, said that the Satellite 813 project was "the beginning of real cooperation with Egypt and a group of Arab countries."