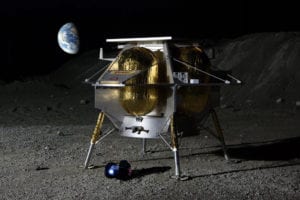 Dymon and Astrobotic proudly announced at the CEATEC 2019 their signing of a joint agreement to send the first Japanese lunar rover onboard the Peregrine lunar lander to the Moon in 2021.
This agreement comes after Dymon surveyed the field of commercial lunar delivery providers around the world and determined Astrobotic to be the most mature provider, with the most capable end-to-end service for their needs. With this announcement, Dymon joins Astrobotic's manifest of 18-signed contracts toward Peregrine Mission One.
CEO of Dymon, Shinichiro Nakajima, commented, "We are really excited to fly our mission with Astrobotic. This lunar rover Yaoki will result in the first lunar rover from Japan to explore the lunar surface, and marks a unique contribution to Peregrine's mission. Yaoki has already successfully passed more than 100 tests, and has the smallest but most effective rover wheels ever produced. We are ready to complete development and fly in 2021."
Astrobotic's Peregrine lunar lander will be launched on a Vulcan Centaur rocket from Space Launch Complex-41 at Cape Canaveral Air Force Station in Florida. The launch will carry the first lunar lander from American soil since Apollo.
"Dymon's unique single axle rover is a creative design that we look forward to delivering on Peregrine in 2021. We're excited to deliver this groundbreaking Japanese rover to the Moon," said Astrobotic CEO John Thornton.