When it comes down to RF distribution, ETL is a company leading the way. Serving satellite operators, the oil and gas , defence, telecoms, maritime and broadcast sectors, ETL has a long heritage and strong reputation in the satellite industry and a passion for R&D. SpaceWatch.Globals Torsten Kriening spoke to Andrew Bond, Sales and Marketing Director at ETL, during IBC 2019 about the business, its key products and services and future challenges and opportunities.
Andrew, please tell us about ETL Systems and what are you doing here at IBC show this year.
ETL is using IBC to show off some of its RF distribution products. We have been attending IBC for over 15 years. In that time, we have grown along with the satellite industry. Today, we are a company of over 140 people, of which one third are engineers, the other third are production and the rest are commercial, support & project managers.
We are based at a manufacturing facility in Hereford, England and we have a research and development centre in London. We also have three sales offices in America, and one in Dubai. We specialise in satisfying satellite customers all over the world, because satellite, being global, requires us to do so.
Who are you customers and who are your clients? Tell us about the products and services you sell to them.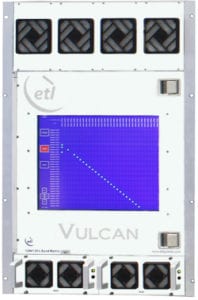 The use of a satellite dish is pretty much the same whether you are a government client, a broadcast client or a satellite operator client. The aim is to handle a signal efficiently down to a modem. Our equipment exists between a satellite dish and a modem and our responsibility is to deliver that signal as in as good a shape as possible. We do that using various pieces of equipment that we design and manufacture. At the heart is distribution equipment, such as switches, listeners, amplifiers, fibre links.
Now, you can imagine the Olympics, for example, where you have a feed that millions of people are watching. We have to think about splitting the signal in a broadcast centre, and also making sure that there is lots of redundancy so if there is a failure, the broadcast remains on air. Our equipment is well known for its efficiency, its reliability and also its scalability. So as a satellite system grows, and more satellites are launched, our equipment scales with it so that a teleport can grow with the number of feeds and signals that it receives from around the world.
So it really doesn't matter what sector the signal belongs to – whether it's military and government or broadcast – your equipment does the same job?
Exactly. I think signal quality is as important to somebody sitting on a boat in the middle of the ocean as it is for an oil rig or the downlink for CNN being distributed to a million people in a city. All of these use cases require a very good signal that can be split. I often use the analogy that RF is a bit like a river. You want the flow of that water, even if it's divided many, many times to be as good as it was at the source. Users want the quality of their picture to on their TV, mobile phone, or laptop to be as it was when it was filmed by the camera.
How is ETL preparing for the advent of satellites in Non-Geosynchronous orbits and the change we see coming with the mega constellations?
The satellite sector is going through a very important change at the moment. Certainly, three, four or five years ago, we saw a lot of pressure from competitive industries, such as IP and fibre, that actually drew a lot of signals away and so satellite bandwidth costs have actually come down. But satellite is starting to become the focus of a lot of technologies. We're now seeing a new generation of satellites at Low Earth Orbit (LEO), which are going to be supporting a new generation of technology, such as 5G and the Internet of Things (IoT), to enable a new generation of big data to be extracted from the devices that we have not only in our pocket, but also in our cars.
I think that's really important, because now we're seeing a harmony between the ground segment and also the space segment in the satellite sector. It's very much part of the new future. I certainly welcome that, because the equipment that we make at ETL that we design it ETL has to start looking ahead at the frequencies and the switching requirements that a LEO satellite is going to require such as the ability to be able to switch between these fast-moving satellites. We've got to make sure that our switches, and matrices are agile enough to switch very quickly from one satellite to the next and to deal with all frequencies to allow consistent, unbroken connectivity.
What are the highlights for ETL at IBC this year?

There are a couple of our product families that are bringing most attention at the moment. The first is our fibre range. I think that, as teleports grow, more people are putting satellite dishes further away from the control rooms. So we're seeing not only component fibre demand for satellite networks, but we're also seeing demand for 10 kilometre, 50 kilometre, even 400 kilometre links. We're also seeing DWDM fibre links grow in popularity in Asia as a result of Ka-band satellite deployments in that region. That's a big growth area for us. The second area of growth is in our components. RF components enable some of the smaller networks to be linked. We sell a range of wave guides, passive splitters and passive switches. These are particularly important for the marine and oil and gas industry where connectivity is essential between ships and oil rigs back to their headquarters.
You mentioned earlier that you are focusing on RF, but you also talk about DWDM. Do you combine both into your products?
We have three different products in our fibre range. We have short distance fibre for 10 kilometre links; then we have medium distance, which is CWDM, which allows eight links to be carried over up to 50 kilometres. Then we can accommodate up to 64 links multiplex, which is DWDM, which extends up to 400 or 500 kilometres. That has been a very interesting area of growth as Ka-band has become more prevalent and satellite networks and teleports have to think about redundancy, and how teleports work together in harmony.
What are the challenges are for the market that you see?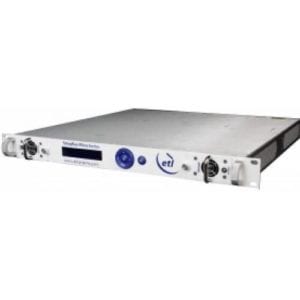 There are a few challenges that I see. There is space debris which I'm very interested in, particularly the responsibility that the satellite industry has in terms of the amount of space debris that is currently known about. When the new LEO satellites are launched I think the effects of collisions could actually take out a whole generation, a whole network of satellites very quickly. You only have to watch the film Gravity to realise how realistic that could be, and it may have been Hollywood but it really could happen. There is also a concern about interference and the efficiency of these networks.
The other issue that I see with these new satellite constellations is the use of frequency. Regulation of how space is used and also of frequencies is very important, globally. We are currently looking at this closely at ETL. We are now seeing increased requirements for our equipment to handle signals up to four GHz and, as we move into Q and V-bands, there seems to be no stopping this increase because we're so bandwidth hungry. The challenge is to be able to achieve the same performance. I think people want reduction in cost but, as we as we get more equipment and more switching with these budget networks, we will also see some real performance issues in RF as well in terms of return loss, flatness, and various other issues.
So but I assume that these are technical challenges you're trying to solve at the moment with your R&D activity?
Correct. There are technical challenges, and we are at the end of the chain, because people are asking us to handle higher frequencies. However, there seems to be very little governance as to who is who is using these frequencies and how they are being applied.
Isn't it regulated via the ITU and by a regulator for each country?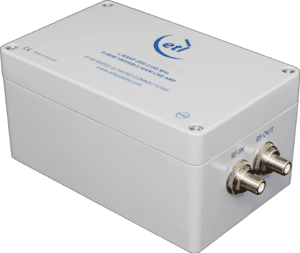 Yes. The use of frequencies is certainly regulated by the ITU, but permission must also be granted in every single country as well. So the use of frequencies is not just a global thing, it is also a national thing. When you design a piece of equipment, which allows us to see a Eutelsat or SES satellite, for example, and the downlink is at 3.2 gigahertz, then there are two issues. The first is will the equipment receive it? And the second is whether that frequency is allowed in that particular country? So, you know, the two really go hand-in-hand.
As you're fully UK based company, I can't avoid this. What will happen after end of October with your global market with your European connections? How does Brexit affect you?
Like satellite, ETL Systems is a truly global company and we have many different nationalities working for us. We will continue to be a global company. 90% of the equipment that we make in the UK is exported and that will continue. I don't see why a different relationship with the European Union will affect us in any way at all. The EU still requires the best satellite equipment as much as we require some of the best German cars in the world. Again, I use the word a harmony because this will be what develops between us once the politicians have stopped fighting for their own slice of the cake.
How big is the European market percentage wise for you?
At the moment it's smaller than normal, because Europe is a quite a mature market. I have been very lucky to have visited most of the teleports in the European region and they themselves are going through this paradigm shift that I mentioned before, where they're moving from video-based teleports to data-based teleports. There remains an oversupply of bandwidth and I think there hasn't been the growth within the European region that we've seen in other areas of the world.
We try to be well-informed about where the industry is going. We are lucky in the sense that we work with some of the world's best system integrators, dish manufacturers and ground equipment designers so we don't work in isolation. At the moment, because we haven't seen the LEO satellites working commercially, we don't yet know what the ground segment will look like. We've had recent conversations about the next generation of antennas, whether they will be flat panel or parabolic, but we don't yet know what the future will look like.
What we do know is that ETL's technology is ready to deal with the change, or potential changes, that may happen. I am pleased to say that we are prepared.
SpaceWatch.Global thanks Andrew Bond of ETL Systems for the interview.