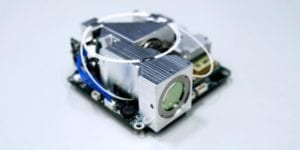 Tesat has introduced the CubeLCT, the company's smallest and lightest laser communication transmitter (LCT). The  small, ultra-lightweight optical data transmitter, is capable of transferring data with 100 Megabit per second from low Earth orbit satellites directly to ground. This delivery, for an undisclosed US customer, marks the starting point of a new product family focusing on NewSpace applications for small satellites and CubeSats. It was developed by Tesat in cooperation with Institute of Communications and Navigation of the German Aerospace Center (DLR-IKN).
The development of the CubeLCT , which weighs just 360 grammes, serves the demand for increasing bandwidth resulting of new sensor capabilities on small satellites, which is facing bottleneck issues with today commonly used radio frequency technology. In the future, small satellites will benefit of the ultra-lightweight laser terminal with a mass less than 400 gram and a volume of only about one third U (9,5 x 9,5 x 3,25 cm³), which is capable of data rates of up to 100 Megabit per second.
The CubeLCT is capable of maintaining a sustainable transmission from distance of up to 1500 km to ground at a speed rate of 100 Mbps. The physical properties of the laser beam allow the technology to be independent of frequency bands (and unaffected by ITU regulations), while enabling enhanced security aspects through interference-free optical links resilient to eavesdropping by technology as the medium for quantum key distribution (QKD) technology.