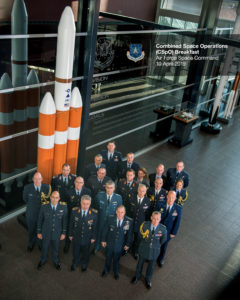 Surrounded by air chiefs from 11 other nations, U.S. Air Force Chief of Staff Gen. David L. Goldfein plunged deep into discussion 11 April 2019 about the changing nature of space.
The daylong meeting at a secure facility in Colorado Springs was the first time air chiefs from other countries had come together in such numbers, at the same time, to talk about space. At the table with Goldfein were air chiefs from Australia, Canada, Denmark, France, Germany, Italy, Japan, Netherlands, New Zealand, Norway and the United Kingdom, the result of Goldfein's impetuous decision a year earlier.
The goal was to forge a better understanding for how best to adapt together to the more contested and dangerous environment and to find ways to maximize and streamline the partnerships into a cohesive, effective whole.
"Our focus really was to get a common understanding of where each of us is on this journey and leave with a sense of the way ahead," Goldfein said afterward, adding that he was pleased with the discussions and the united front that emerged during the day. Also in the room that day was Gen. John W. "Jay" Raymond, Air Force Space Command commander.
The air chiefs' meeting, however, was not the only major space event that day. At the same time more than 1,600 miles away, the Senate Armed Services Committee was holding the first major hearing on the proposed Space Force, the administration's high profile response to the militarization of space. While acknowledging the importance of a free and open space, senators were skeptical whether a Space Force is the answer.
The juxtaposition of the two simultaneous events is instructive.
While Congress debates the form and function of a Space Force with an uncertain outcome, Goldfein, Raymond and other senior leaders including Secretary of the Air Force Heather Wilson are moving to use existing tools and authorities to ensure the U.S. maintains its primacy in space to provide deterrence and, if necessary, "to fight and win."
Defined that way, Goldfein said he was pleased with the tone, focus and outcome of the meeting in Colorado Springs.
"It was really important to me that we were doing as much listening as talking," he said. "Each of the air chiefs had an opportunity to make a presentation and share what he or she is thinking about. We also shared our thinking. There were a couple common themes.
"First and foremost, we really are committed to the peaceful, the open, the responsible use of space as part of the global commons," he said. "For each of the countries represented, our countries depend on space and clearly if a war starts or extends into space, nobody wins. In fact, everybody loses."
From the overarching agreement that an open, accessible space is crucial to each nation's security, economic well-being and quality of life (GPS navigation and global phone service, for example), the discussion turned to more granular topics for how best to achieve that goal.
Normalizing space situational awareness and intelligence so information can be more easily shared and digested among partners, was one topic that Goldfein pressed especially hard. Another was defining the "norms" for operating in space. Another focused on expanding the use of joint exercises and training programs.
"We specifically looked at, how, at this very early stage building out our sensor capability and our battle management, we make it interoperable at the start," he said. "We also talked about making sure we have a common commitment to be able to operate at the speed of relevance and that speed of relevance is often driven by the speed of the threat."
While coming to full agreement on some of the particulars may take time, the long history of cooperation on military, economic and diplomatic matters among the nations set a positive tone. That reality was reflected the day before the full meeting when a smaller group of seven nations released a "multinational statement for combined space operations."
"We collectively share the view that military cooperation concerning the space domain is vital to our countries' interests," said the 4-paragraph statement signed by air chiefs and senior space officials from Australia, Canada, France, Germany, New Zealand, the U.K. and the U.S.
"Our respective nations are actively working together to address threats and shared interests in space; and to preserve access to the space domain for the future of humankind," the statement said. The statement also carried each country's pledge to coordinate "our national interests through the Combined Space Operations, or CSpO, initiative. In part, CSpO collaboration includes enhanced Space Situational Awareness and data sharing among all partner nations to support space activities."
As for training and education, Goldfein said there was broad agreement for the need to have a "cadre" of space experts. In response, the Air Force has opened some of its space classes "to our allies and partners."
"We tend to get into a technical discussion quickly when we talk about space but I will tell you the 'people part' of it is as important as anything else we ever procure," he said.
Goldfein noted other agreement.
"We did have conversations about where we bring our capabilities together; our shared situational awareness and how do we become more and more interoperable," Goldfein said. "One of the things I shared with the chiefs was, in some ways we are here at the creation of this transition from a benign environment to a more contested environment. And because we're so early in the discussions, it presents us the opportunity to actually become more interoperable, faster."
By the end of the day, more than 8 hours after starting, Goldfein said the result was positive.
"We all came out of it with a collective sense that based on what was briefed and what was presented that we are confident that if a fight started today we have what we need to collectively win," he said.
"I think everyone believed it was a day very well spent and I already told them we are committed to hosting it again next year."
//AFNS//