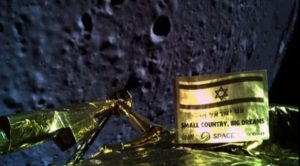 "If at first you don't succeed, you try again," said newly reelected Israeli Prime Minister Benjamin Netanyahu when the Beresheet (Hebrew for Genesis) lunar lander failed to make a soft landing on the Moon's surface on 11 April 2019.
That's exactly what Morris Kahn, the Israeli billionaire who founded and backs SpaceIL and funded a large portion of the Beresheet lunar lander, intends to do. Within a very short time of the original Beresheet Moon landing attempt, Kahn has committed SpaceIL to building a second Beresheet lander, to be called Beresheet Shtayim (shtayim is Hebrew for 'second') – or Beresheet 2.0.
"In the light of all the support that I've got, from all over the world, and the wonderful messages of support and encouragement and excitement, I've decided we're going to actually establish Beresheet Shtayim," said Kahn in a video message posted online on 13 April 2019. "We're going to actually… build a new chalalit — a new spacecraft. We're going to put it on the Moon, and we're going to complete the mission."
The original Beresheet mission is thought to have cost about U.S.$100 million, with 40 percent of that cost covered by Morris Kahn and the rest by other wealthy individuals, such as casino tycoon Sheldon Adelson. Three percent of the Beresheet cost was covered by the Israel Space Agency (ISA), according to Israeli sources.
Beresheet 2.0, according to SpaceIL insiders, should be cheaper than Beresheet 1.0 coming in at about U.S.$60 million in total. The majority, if not all, of the required money will be raised through crowdfunding according to SpaceIL.
"We're not shooting for Mars," said Professor Isaac-Ben Israel, the head of Israel Space Agency and a member of the SpaceIL board, quoted in Bloomberg. "We're going back to the moon, and a lot of what we learned and built is still applicable."
While the Beresheet missions are peaceful and scientific in intent, the geopolitical aspect of the missions are unavoidable in the troubled Middle East region.
"It's like the U.S.-Russian space race in the '60s and '70s," Professor Ben-Israel told Bloomberg. "Rivals look at what we've done and wonder what else we can do. This has a deterrent effect, no question."