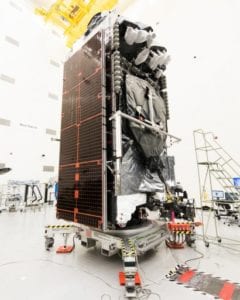 On April 18, Intelsat confirmed announced that the anomaly previously disclosed on April 10, 2019 had resulted in the total loss of the Intelsat 29e spacecraft. A failure review board has been convened with the satellite's manufacturer, Boeing, to complete a comprehensive analysis of the cause of the anomaly.
The company said that late on April 7, the Intelsat 29e propulsion system experienced damage that caused a leak of the propellant on board the satellite resulting in a service disruption to customers on the satellite. While working to recover the satellite, a second anomaly occurred, after which all efforts to recover the satellite were unsuccessful.
Intelsat is currently engaged with its customers, working on restoring services on other Intelsat satellites or third-party satellites serving the region.
Concerns have been voiced about the spacecraft and its potential to cause harm. According to deep space tracking specialists, ExoAnalytic Solutions, the satellite was hit by an event that caused it to lose a piece of the superstructure. Fears are growing that the satellite could become a zombie spacecraft and could potentially pose a threat to other spacecraft.
Originally launched in January 2016, Intelsat 29e was part of the 'Epic' fleet of High Throughput Satellites (HTS) and served the South America region with C-band video and data services and the Americas with its Ku-band transponders offering services such as TV and Internet to aircraft over the North Atlantic.
Engineers are still trying to establish what caused the initial impact which could have potentially been a small asteroid or even a piece of space debris.