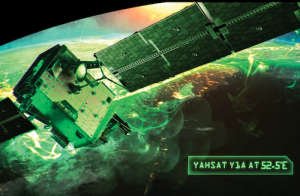 Global television news network RT expands its partnership with Yahlive, the Abu Dhabi-based satellite joint venture between world leading satellite operator SES and the UAE satellite company Yahsat, by introducing RT France HD to French speakers in the MENA region via Yahlive's MENA beam.
For the next three years, RT France HD will be added to Yahlive's existing bouquet of other popular TV channels, and will reach more than 10 million households across Algeria, Tunisia, and Morocco. A long-term partner of Yahlive, RT renewed its agreement with Yahlive in 2018 to continue broadcasting RT International HD and RT Arabic HD.
"We are happy to arrive on Yahlive, and contribute to the diversity of their offer. This expanded distribution positions us even more as the reference information channel that offers the French-speaking audiences in the region with a wide range of stories and different perspectives on the news " says Xenia Fedorova, President of RT France.
RT is a leading news source in the Middle East and North Africa region, with a weekly audience of 11 million people across 15 countries, and remains one of Yahlive's key broadcasters in the region. In 2018, RT's reach has significantly increased across Yahlive's Arabic-speaking communities, to 10.3 million DTH and 0.2 IPTV households or 42 million viewers, according to the SES Satellite Monitor, an annual market research conducted by the leading satellite operator. RT France will now bring local, regional, national and international stories to the French-speaking viewers in the region.
Ivan Lyssenko, Head of Distribution at RT says: "Since 2012, we have enjoyed incredible success with Yahlive as our partner and are continuously leveraging their growing viewership across the MENA coverage. This agreement is a step forward in consolidating our market presence and we are confident that Yahlive's strong and growing footprint in the MENA region will allow us to engage with newer audiences."
Ammar Baranbo, Chief Operating Officer at Yahlive, says: "We are excited to extend our long-term partnership and cooperation with RT and look forward to continuing to bring key regional and international stories to our audiences in the Middle East and North Africa. This partnership is a reflection of the technical excellence provided by Yahsat's Al Yah-1 satellite which allows us to deliver high-quality content based on our customer's transmission needs, with the best possible signal quality."