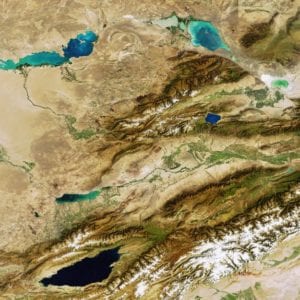 Kazakhstan proposed an Earth observation satellite programme to the official governmental delegations of Uzbekistan, Tajikistan, Turkmenistan, and Kyrgyzstan at a meeting of the first Central Asian Economic Forum at Uzexpocenter, according to a Trend News Agency report via Uzbek media.
The Kazakh-proposed satellite collaboration, if accepted, would be the latest area of cooperation between the five Central Asian republics.
Kazakh space policy makers stated that the regional project would involve the construction of a constellation of five Earth observation satellites, with each country in the group owning and operating a satellite each.
"The project provides that each country will own a satellite, which will give an opportunity to receive high-quality remote sensing information. This will increase the efficiency of surveying the surface of the earth and allow each country to introduce its own monitoring in the development of economic sectors, such as agriculture or others," Deputy Prime Minister of Kazakhstan Zhenis Kasymbek said at the presentation.
Kazakhstan proposed within the project to send working groups to all countries to analyse and study these plans.
Experts also briefed the delegations that satellite remote sensing technologies are an indispensable tool for the study, and continuous monitoring, of the Earth's surface and helps policy makers to effectively use and manage its resources as well as for environmental monitoring.
Kazakhstan operates the KazEOSat-1 and -2 Earth observation satellites, and most recently launched the KazSTSat remote sensing satellite.
SpaceWatch.Global has reported in previous months that Uzbekistan and Turkmenistan are rumored to be in discussions with Thales Alenia Space of France regarding their acquisition of high-resolution Earth observation satellites, though further details as to the status of these discussions have been hard to come by.
It is also known that Russia, China, and Japan are also seeking to sell their Earth observation satellites to Central Asian countries.