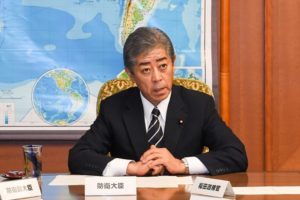 In a Washington, DC, speech, Japanese Defence Minister Takeshi Iwaya outlines his country's new National Defense Program Guidelines (NDPG) and Mid-Term Defense Plan (MTDP) that included new Japanese positions on national security space that require close cooperation with its American ally.
Minister Iwaya's speech covered a broad range of defence issues from operations in the traditional domains of land, sea, and air through to the new strategic domains of cyberspace and space. It is these new domains, according to Minister Iwaya, that spurred Tokyo to reexamine its defence posture and strategies.
"…rapid expansion in the use of new domains, which are space, cyberspace, and the electromagnetic spectrum, is poised to fundamentally change the existing paradigm of national security. This is what drove Japan's recent formulation of the new NDPG," Minister Iwaya told his audience at the Center for Strategic and International Studies (CSIS) in Washington, DC, on 16 January 2019.
"We believe that this concept will enable us to overcome any deficiency in individual domains. To this end, Japan will emphasize efforts to acquire and strengthen our capabilities in the new domains of space, cyberspace, and the electromagnetic spectrum," he added.
Minister Iwaya also indicated that the Japanese Self-Defense Forces (SDF) will adopt a posture that emphasizes so-called multidomain operations and deterrence, in line with the U.S. military. "Ultimately, our aim is to organically integrate capabilities in all domains, both in new domains and traditional domains, to generate synergy and amplify the overall strengths," Minister Iwaya said.
On national security space, Minister Iwaya laid out Tokyo's intention to develop space situational awareness (SSA) capabilities and intimated that Japan will field non-kinetic means to disrupt adversary use of the space domain, presumably an oblique reference to cyber and electronic warfare capabilities. "First and foremost, we must gain and improve our capabilities in new domains. For space, we will monitor situations over space all the time and develop capabilities to disrupt opponents' command and control of information communications," he said.
To implement this, the SDF will stand up its Space Domain Mission Unit (SDMU) in 2022 to ensure Japanese forces can achieve space superiority – a term hitherto not used by Japanese officials in public remarks.
"By Japanese fiscal year 2022, we will establish a space domain mission unit in order to ensure superiority in the use of space at all stages, from peacetime to contingencies," Minister Iwaya said.
Minister Iwaya also emphasized the importance of close cooperation between the Japanese and U.S. militaries in conducting space operations and countering the growing range of threats from the space domain.
"I am certain that cooperation in new domains is essential for improving the overall Japan-U.S. joint response capabilities, including cross-domain operations. Among these new domains, Japan has already started to deepen cooperation with the United States in the space domain. Japan's first participation in the Schriever wargame last October was a milestone that showed our unity of effort with the U.S. Air Force Space Command," he said.
"I am also aware that last December, President Trump ordered the creation of the U.S. Space Command as the 11th unified combatant command. Space is critical to our improved capabilities for the operations and which are hoped to secure a close relationship between the U.S. Space Command and other prospective space domain mission units," he added.