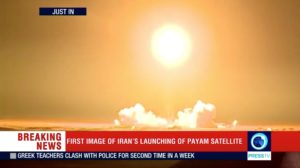 Days after Iranian President Hassan Rouhani defiantly declared that Tehran will launch several satellites using indigenous launch vehicles over "the coming weeks," Iran followed through on its promise by attempting to launch its Payam-e Amirabir-1 Earth observation microsatellite on 15 January 2019, using a Simorgh satellite launch vehicle. The launch ended in failure when the third stage of the Simorgh SLV failed to put the satellite into its intended orbit.
"I would have liked to make you happy with some good news, but sometimes life does not go as expected," Iran's minister of telecommunications, Mohammad Javad Azari Jahromi, wrote in a Twitter post shortly after the launch failed to achieve orbit.
According to Jahromi, the third stage failed to achieve the required velocity to place the Payam-e Amirkabir-1 into orbit, and it probably splashed down in the Indian Ocean to the south of Iran. The 15 January launch was made from the Imam Khomeini Space Centre in Iran's Semnan province, a facility under the control of the Iranian Defence Ministry, Jahromi added.
The Payam-e Amirkabir-1 satellite was designed and built by Tehran's Amirkabir University of Technology and was a remote sensing satellite that was supposed to operate in low-Earth orbit (LEO) at an altitude of 500 kilometres.
Ahmad Motamedi, the chancellor of Tehran Amirkabir University of Technology, told the Iranian Mehr News Agency that the Ministry of Telecommunications had immediately ordered them to design and build another satellite.
"Now, we have earned plenty of experience and we will be able to make a new satellite quicker," Motamedi said.
The attempted satellite launch drew criticism from the United States and Israel who argue that the Iranian space programme is nothing more than a front for Tehran's ambitions to build and deploy intercontinental range ballistic missiles.
"Such vehicles incorporate technologies that are virtually identical and interchangeable with those used in ballistic missiles, including intercontinental ballistic missiles. Today's launch furthers Iran's ability to eventually build such a weapon," U.S. Secretary of State Mike Pompeo said in a statement.
Israeli Prime Minister Benjamin Netanyahu said that the Payam-e Amirkabir-1 is no mere "innocent satellite," but is part of "the first stage of an intercontinental missile."
"Since we have no intentions to secretly or openly produce nuclear weapons, we believe we have the right to manufacture and develop satellites and rockets and missiles to launch them into orbit," said Hamidreza Taraghi, a conservative Iranian politician, in response to international criticism. "Other countries do not give us the satellites we need, nor do they launch them for us, so we have to do it ourselves."
Iranian media reports suggest that the next satellite launch attempt by Iran will be to place the Dousti Earth observation and store-and-forward communications microsatellite into orbit, though no specific date has been given.