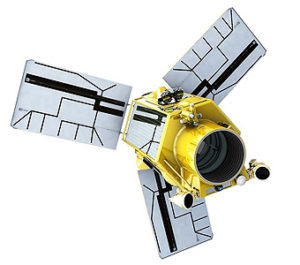 China has agreed to grant U.S.$72 million for the EgyptSat-2 Earth observation satellite programme under a contract signed on 21 January 2019.
This is the third grant provided by China to Egypt for the satellite project, with an initial grant of U.S.$23 million given in 2016, and a second grant worth U.S.$45 million provided in 2018.
The grants are believed to be administered by the China National Space Administration (CNSA).
The Egyptian Minister of Higher Education, Khaled Abdel Ghaffar, affirmed the deal to be an indication of strong relations and cooperation between Egypt and China.
Egypt and China, the minister emphasized, enjoy solid and close ties within all areas, mainly in higher education and scientific research.
Acting head of the Egyptian National Authority for Remote Sensing and Space Sciences (NARSSS), Mahmoud Hussein, joined the signing ceremony for the agreement along with Song Aiguo, China's Ambassador to Egypt.
Egypt is a key Middle Eastern partner in China's Belt and Road Initiative (BRI) and has received significant Chinese investment in the past few years. As of July 2018, there are 1,558 Chinese companies in Egypt that specialise in information technology, electricity supply, telecommunications, and transportation.
Meanwhile, Egypt's MisrSat-2 – also known as EgyptSat-A – is now expected to be launched from Russia in February 2019. MisrSat-2 was originally scheduled to be launched in November 2018, and then delayed until December 2018. The launch was further delayed for as yet unknown reasons.