Satellogic, the world's first vertically integrated geospatial analytics company, announced on 15 January 2018 a Multiple Launch Services Agreement (MLA) with China Great Wall Industry Corporation (CGWIC). CGWIC will launch 90 of Satellogic's spacecraft from the Taiyuan Satellite Launch Center. The first launch – scheduled for later this year – will deliver a dedicated payload of 13 of Satellogic's spacecraft to Low Earth Orbit on a Long March-6 (LM-6) rocket.
Satellogic's team of world-class data scientists is already leveraging its current fleet of spacecraft to deliver planetary scale insights and solutions for a variety of industries, including agriculture, forestry, oil and gas, and finance and insurance. The 90 spacecraft that Satellogic announced under this agreement will form an Earth Observation Satellite Constellation that will remap the planet at one meter of resolution every week and dramatically reduce the cost of high-frequency geospatial analytics.
"We want to help solve the world's most pressing problems by building an accurate and up-to-date picture of our planet and the many forces that reshape it everyday," said Satellogic Founder and CEO Emiliano Kargieman. "This agreement is a major step in realizing that vision. With 90 more spacecraft in our constellation, we will be able to deliver weekly, high-resolution remaps of the entire planet at a price that will set a new standard for access and affordability in our market."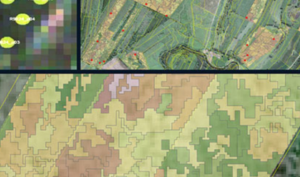 This MLA marks another milestone in the CGWIC-Satellogic cooperation: it will be the first time that the new generation Long March launch vehicle will provide launch services to international customers. To date, CGWIC has successfully launched Satellogic's first demonstration cubesat and 5 spacecraft. As per the terms of a previously existing agreement, CGWIC is poised to deliver another 3 spacecraft to low-earth orbit in 2019. The first LM-6 launch under this MLA will bring the total number of Satellogic's commercial satellites in orbit to 19.
"We're proud to extend our highly successful working relationship with Satellogic," said Gao Ruofei, Executive Vice President of CGWIC. "Satellogic's constellation will introduce a new era of affordable earth observation just as the LM-6 will open new opportunities for the global space industry."
Founded in 2010, Satellogic's headquarters and R&D facility is located in Buenos Aires, Argentina. Their satellite Assembly, Integration and Test (AIT) facility is located in Montevideo, Uruguay. Other divisions include a data-technology center in Barcelona, Spain; a product-development center in Tel Aviv, Israel; and a business development center in Miami, USA. The company's newest branch in Beijing, China will focus on exclusive constellation customization, data services, and industrial applications.