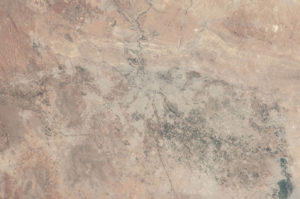 The Syrian Minister of Communications and Technology, Iyad Khatib, has stated the need for Syria to develop a space programme and launch its first satellite into orbit, the ministry said on 11 December 2018, according to Russian news outlet Sputnik International.
The minister visited a Syrian space research organisation called the General Organisation of Remote Sensing (GORS) and met with its management and staff, who gave a presentation of their projects to Khatib.
"The minister said that GORS should develop a road map for the Syrian space programme, as well as for the launch of the first artificial satellite into Earth's orbit, like other Arab countries", the ministry said in a statement.
According to Khatib, the creation of a satellite will be one of the ministry's main goals in the coming years.
Despite the devastation wrought across Syria by its ongoing civil war that has been fought since 2011, the regime of Bashar Al Assad is consolidating its battlefield victories (thanks to the help of Russian, Iranian, and Hezbollah forces) and starting a reconstruction programme.
As a result, a number of economic analysts believe that if the Assad regime can maintain a semblance of stability throughout much of the country then Syria might experience very high economic growth in the coming years, thus making a space programme feasibly affordable, though likely politically controversial.
Syria has a proud space history, being one of the first Arab countries to send a cosmonaut into space with the Soviet space programme. In 2014, at the height of the civil war, the Assad regime in Damascus announced the creation of the Syrian Space Agency, though its activities – if any – have been unheard of since then.
The list of Arab states that have already have their own satellites into orbit include Egypt, Saudi Arabia, United Arab Emirates, Morocco, Jordan, Tunisia, Algeria, Qatar, and Iraq.