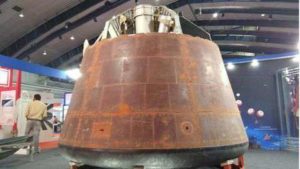 The Indian government announced on 28 December 2018 that its Gaganyaan human spaceflight mission expected to take place in 2022 will consist of three crew members, last for five to seven days in orbit, and is budgeted for the equivalent of U.S.$1.43 billion, according to Indian media reports.
Announced in August 2018 by Indian Prime Minister Narendra Modi, the Gaganyaan human spaceflight mission is being administered and implemented by the Indian Space Research Organisation (ISRO), with cooperative assistance from the French and Russian space agencies for life support systems and astronaut training. ISRO officials have previously intimated that the Indian Gaganyaan crew will likely be selected from the Indian Air Force (IAF) though it is unknown whether the selection process has begun yet.
"Today, the Cabinet has given the go-ahead to the Indian Human Space Flight Initiative," Ravi Shankar Prasad, India's Information Technology Minister, told reporters in New Delhi on 28 December. "We will send a three-member crew for seven days into space. We are aiming to complete the pilot initiative within 40 months from now."
The U.S.$1.43 billion budget for Gaganyaan is earmarked for technology development, flight hardware realization, and the creation of essential infrastructure required for successfully completing the mission. The three astronauts (called Vayonauts in Sanskrit) are expected to be launched into orbit on board an ISRO Geo-Stationary Launch Vehicle (GSLV) Mark III, though some Indian space analysts point out that this launch vehicle has not been fully developed yet. A test launch of the GSLV Mk III and crew vehicle is expected to take place in December 2020.
"The astronauts will be inside a crew module which will be attached to a services module to maintain services for them, and then onto an orbital module. The orbital module will be placed on the launch vehicle for the launch," ISRO Chairman Dr. K. Sivan said, quoted in the Indian Express. "The launch will take place within 16 minutes, the crew will be transported from Sriharikota to a low earth orbit of 400 km. They will stay in orbit for 5-7 days."
If successfully completed, the Gaganyaan mission will make India the fourth country in the world after Russia, United States, and China, to be able to indigenously and autonomously place its own nationals into space from its own territory.
Several months after Prime Minister Modi announced the Gaganyaan mission, India's geopolitical rival and neighbour Pakistan that it too will send citizens into space, with the assistance of China, no later than 2023.