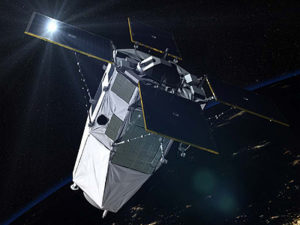 On Tuesday, 18 December 2018, and Arianespace Soyuz launch vehicle will lift off for the 20th time from Europe's spaceport at the Guiana Space Centre (GSC), carrying the CSO-1 security and defence Earth-observation satellite for the Centre national d'études spatiales (CNES) and the French defence procurement agency DGA. This will be Soyuz's third launch from the GSC in 2018 and the 11th and last satellite launch from the base this year.
With a launch mass of 3,565 kilograms, CSO-1 is the first military observation satellite of the CSO optical space component, a constellation of three identical satellites in different-altitude polar orbits. It has an expected lifetime of 10 years.
Airbus Defence and Space France is the satellite prime contractor and Thales Alenia Space France is supplying the optical instrument. CNES has delegated oversight responsibility for the CSO space component and the Mission Ground Segment. It is also system co-architect and in charge of satellite positioning, in-orbit checkout, and operations. DGA has oversight responsibility for construction and sustainment of the User Ground Segment, which provides the interface between the space sensors and users.
The French CSO (Composante Spatiale Optique) high resolution reconnaissance satellites are the optical space component of the MUltinational Space-based Imaging System for Surveillance, Reconnaissance and Observation (MUSIS) programme that will replace the current Helios-2 military observation satellites.
CNES, the French space agency, and the DGA, the French arms procurement agency, awarded Airbus Defence and Space a €795 million contract for two satellites for the CSO programme. The first satellite is scheduled to enter orbit in 2018. The contract also includes an option for a third satellite.
As prime contractor for the CSO satellites programme, Airbus Defence and Space has provided the agile platform and avionics, and was also responsible for the integration work, testing, and delivery of the satellites to CNES. Thales Alenia Space has provided Airbus with the very-high resolution optical instrument.
An agreement between France and Germany was reached in April 2015, under which Germany contributes €210 million to building a third satellite, and in exchange receives access rights to the imagery.
CSO-1 will provide very high resolution imagery – comparable to the Helios-2 satellites, with a ground resolution of about 35 cm from an 800 kilometre orbit. CSO-2 will be put into a lower 480km orbit to provide extremely high resolution imagery with a ground resolution of about 20 cm, and is expected to be launched in in 2021. CSO-3 will be launched to provide increased revisit capabilities.