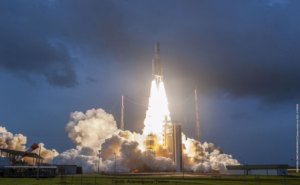 Arianespace has successfully orbited two satellites: GSAT-11 for ISRO (Indian Space Research Organisation), and GEO-KOMPSAT-2A for KARI (Korea Aerospace Research Institute).
With this mission dedicated to space applications for telecommunications and meteorology, Arianespace once again contributes to the improvement of life on Earth.
The sixth Ariane 5 launch of the year took place on Tuesday, 4 December 2018 at 5:37 pm (local time) from the Guiana Space Center (CSG), Europe's Spaceport in French Guiana (South America).
This 10th mission in 2018 reflects the availability and flexibility of Arianespace, which has performed a launch every two weeks since 6 November 2018.
Arianespace, a key partner of ISRO
Since the launch of India's APPLE experimental satellite on Ariane Flight L03 in 1981, Arianespace has won nearly all of India's geostationary orbit launch contracts opened to non-Indian launch vehicles, and has signed 24 launch contracts with the Indian space agency.
GSAT-11 is the 22nd satellite from ISRO to be launched by Arianespace, and the largest and heaviest satellite ever built by India's space agency. Arianespace has two other ISRO satellites in its order book to launch: GSAT-30 and GSAT-31. The latter, GSAT-31, will be lofted by Arianespace early next year.
GSAT-11, configured on the new-generation I6-K satellite bus, will provide communications services with multi-spot beam coverage of the Indian mainland and nearby islands. With this new satellite, ISRO will help bridge the digital divide in India within the scope of a programme that capitalizes on space technology to support national development, while also pursuing space science research and planetary exploration.
Arianespace helps South Korea develop its ambitious space program
GEO-KOMPSAT-2A is the second satellite from the South Korean space agency KARI to be orbited by Arianespace, following the multi-mission COMS (Communication, Ocean, Meteorological Satellite), launched in 2010 by an Ariane 5.
Arianespace has two Earth observation satellites from KARI in its order book for future launches: GEO-KOMPSAT-2B on Ariane 5 and KOMPSAT-7 on Vega C.
Since launching South Korea's first satellites, KITSAT-1A in 1992 and KITSAT-2 in 1993 using Ariane 4 launch vehicles, Arianespace has become a major partner to the Korean space program.
Arianespace also has orbited three satellites for the telecom operator KT Sat: KOREASAT-3 in 1999, KOREASAT-6 in 2010 and KOREASAT-7 in 2017.
GEO-KOMPSAT-2 is a national programme developed by KARI for the South Korean government, involving the development and operation of two civilian geostationary satellites, GEO-KOMPSAT-2A and 2B.
GEO-KOMPSAT-2A is designed to conduct meteorological and space weather monitoring missions.
Another launch for a better life on Earth
With this latest launch, Arianespace continues its vocation of using its launcher family to make life better on Earth. The GSAT-11 satellite, which will help reduce the digital divide in India, is only the latest in a long line of communications satellites that connect people and enhance Internet access worldwide, including for people on the move. With the COP24 Climate Change Conference now taking place in Poland, the GEO-KOMPSAT-2A satellite reflects Arianespace's commitment to sustainable development. It is the 67th Earth observation satellite to be launched by Arianespace.
A launch every two weeks
Flight VA246 is the 10th launch performed by Arianespace in 2018: six using Ariane 5's, two with Vega and two with Soyuz. In the fourth quarter of the year, Arianespace has once again proven its flexibility and reliability by carrying out five launches in two-and-a-half months (25 September – 4 December 2018), with launches coming every two weeks since early November. The last launch of the year will continue this momentum, as Arianespace will use a Soyuz rocket to launch the CSO-1 spacecraft for the French defense procurement agency DGA (Direction générale de l'armement) and the French space agency CNES.
Shortly after the orbital injection of the GSAT-11 and GEO-KOMPSAT-2A satellites, Stéphane Israël, Chief Executive Officer of Arianespace, said: "With this 10th launch of the year, Arianespace is glad to support two major space agencies: ISRO of India and KARI of South Korea. We are very honored by the renewed confidence of ISRO. GSAT-11 is the heaviest communications satellite ever built by the agency, and the first to be carried in the upper position on Ariane 5."
"We are also very proud to launch the GEO-KOMPSAT-2A weather satellite, in our second mission for the Korean space agency KARI. My congratulations to these agencies for the construction of these advanced satellites, which will help reduce the digital divide in India and improve Korean weather forecasts."
"Today's launch marks the latest mission for a better life on Earth, and we are both pleased and proud to have performed it in the presence of the Chairman of ISRO, Dr. K. Sivan; of the Vice President of KARI, Mr. Sang Ryool Lee.  This launch also took place in the presence of Mr. François Garay, Mayor of Les Mureaux and President of the Community of Ariane Cities in 2018, whom we thank for his constant support."
"I would like to thank all of our partners in this latest success, which confirms the exceptional reliability of Ariane 5: ArianeGroup's teams and all companies involved in the construction of Ariane, ESA, CNES, our ground segment companies and all staff at the launch base. And congratulations to everybody at Arianespace for this perfect penultimate launch of the year and for maintaining such a sustained and successful rapid pace."
GSAT-11
The GSAT-11 satellite was built by ISRO (Indian Space Research Organisation) on the new-generation I-6K satellite bus.
Positioned at 74° East in geostationary orbit, it will provide Ku- and Ka-band communications services in both forward and return links.
The satellite weighed 5,854.6 kg. at launch and it offers a design life of 15 years.
GEO-KOMPSAT-2A
The GEO-KOMPSAT-2A satellite was built by KARI (Korea Aerospace Research Institute) at its facility in Daejeon, South Korea.
Positioned at 128.2° East, it will cover the Asia-Pacific region.
The satellite weighed 3,507.2 kg. at launch, and it offers a design life exceeding 10 years.