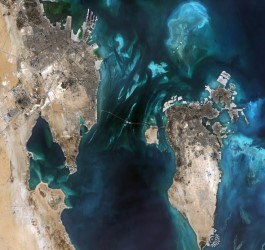 Bahrain is likely to sign a Memorandum of Understanding (MoU) on space cooperation with the Indian Space Research Organisation (ISRO) in early 2019, in order to send Bahraini engineers to India for training in satellite technologies and manufacturing. The MoU, once signed, will further establish ISRO as a major player in Gulf Arab space ambitions.
"The MoU … has been approved by the Bahrain government and is in its final stage," said H.E. Kamal Bin Ahmed Mohammed, Bahrain's Minister for Transportation and Telecommunications, who also holds the space portfolio. "Hopefully, I will be in India shortly, maybe at the next air show in February, to sign the MoU."
"The agreement will be mainly for training purposes and both countries will cooperate on research and technology," he added, explaining "It is just a starting point. The government will send some Bahrainis to be trained in India from January for eight weeks…to study how they can design and build satellites."
According to various media reports in Bahraini and Indian press, Bahrain also hopes to forge closer economic ties with India to attract both investment and technology companies.
Kamal Bin Ahmed Mohammed also explained that Bahrain is in ongoing discussions with private sector entities, the Confederation of Indian Industries (CII), and the Bahrain Economic Development Board (EDB), noting that India is one of the most important markets for the EDB.
The minister believes investment from India is key. "I believe Indian companies are becoming bigger, they are expanding outside of India and GCC (Gulf Cooperation Council) countries offer them the best opportunity," he said quoted in regional newspapers. "India is an important business partner for Bahrain, and the kingdom is keen to further strengthen the relations with the private sector in India."
The imminent signing of the MoU with Bahrain is another milestone in Indian-GCC space relations, as India already has established space cooperation agreements with Oman, Saudi Arabia, and the United Arab Emirates.