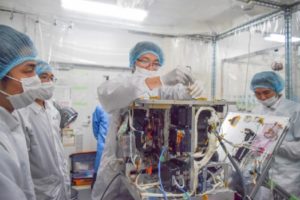 Vietnam is set to have its MicroDragon Earth observation satellite launched from Japan in December 2018, while it also prepares to take the chair of the Committee on Earth Observation Satellites (CEOS) in January 2019, further cementing Vietnam's status as a major space power in Southeast Asia.
The launch of MicroDragon, a miniaturized satellite developed by Vietnamese engineers, was announced on 18 October 2018 by the Vietnam National Space Center (VNSC), as part of a joint Vietnam-Japan project on disaster and climate change prevention using earth observation satellites.
The satellite will be used as a tool to assist with preventing and mitigating the impact of natural disasters and climate change as well as managing natural resources. Prior to MicroDragon, Vietnam previously built PicoDragon, weighing 1 kilogram, which was launched into orbit in November 2013. In the future, Vietnam plans to operate LOTUSat-1 and LOTUSat-2, two radar imaging satellites weighing approximately 600 kilograms each.
Satellite Today reports that the project has helped establish a disaster warning, resource management, and environmental monitoring system by developing the infrastructure of the VNSC and transferring satellite manufacturing technology, according to VNSC Deputy Director Vu Anh Tuan,
Vietnam's Earth observation satellite will provide imagery of a specific area within 6-12 hours, compared with a wait of at least two days when ordering from a satellite imagery provider.
In other news, Vietnam will take the Chair of the Committee on Earth Observation Satellites (CEOS) in 2019, according to the VNSC. This new role for Vietnam was announced at the 32nd CEOS Plenary held last week in Belgium.
VNSC General Director Pham Anh Tuan will represent Vietnam as Chair.
According to a report in Vietnam Plus, Vietnam will put forward two initiatives in its position as chair: carbon observation, especially in forests in order to serve forest management and supervision, and observation serving agricultural development, with the focus on rice.
These applications are essential to the assessment of agricultural development in Vietnam and will be extended to the nations in the Mekong River region, Tuan added.
Vietnam will host the 33rd CEOS Plenary slated for 14-16 October 2019.