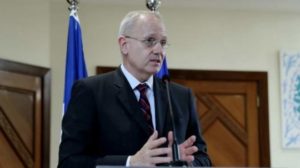 The French national space agency, the Centre national d'études spatiales (CNES), has opened a liaison and representative office in Abu Dhabi, United Arab Emirates, marking deeper and strategic relations in space matters between the French agency and the UAE Space Agency.
Speaking at the opening ceremony of the representative office, Jean-Yves Le Gall, President of CNES, said that the UAE has become "one of the major actors in the space scene."
CNES is the first foreign space agency to open an office in the UAE, and it will be represented by Donato Giorgi.
Le Gall said that France intends to deepen collaboration with the UAE in the space sector, and that the opening of the CNES office is the result of a long strategic partnership between the two countries.
"The UAE space programme in a few years has made the country one of the major actors in the space scene," Le Gall said, adding that, "in the UAE, you will find a lot of dynamism, vision and interesting space, this is why we decided to enter in to a very special partnership through opening of a representative office of CNES in Abu Dhabi."
"We have lot of links with the UAE, and I am sure, we are going to develop them more in the coming years," Le Gall told the Emirates News Agency, WAM, in an exclusive interview at the residence of the French Ambassador to the UAE, Ludovic Pouille.
"It is important for us to be present here in Abu Dhabi, because many important things are happening, and the opening of a representative office in the UAE is the result of the long strategic partnership with the UAE Space Agency and the Mohammed bin Rashid Space Centre, MBRSC," Le Gall added.
The announcement of the opening of the CNES Abu Dhabi office was made in the presence of Dr. Ahmad bin Abdullah Humaid Belhoul Al Falasi, Cabinet Member and Minister of State for Higher Education and Advanced Skills, and Chairman of the UAE Space Agency. The Director-General of the UAE Space Agency, Mohammed Al Ahbabi, was also present.
"Investment in the space sector has multilateral benefits including creation of satellite applications, improvement of telecommunications' services and technology. In fact, investment in space helps build the young generation in the space field, and develop the future prospects," Jean-Yves Le Gall said.
In November 2017, the UAE and France signed an agreement to develop a joint hyperspectral imaging satellite to support efforts to tackle climate change. The agreement was signed during French President Emmanuel Macron's state visit to the UAE.
Le Gall added that France will build on its cooperation with the UAE through training and student exchange programmes.
"We have a very strong partnership with the UAE and space is one the element of this robust partnership," Le Gall said.