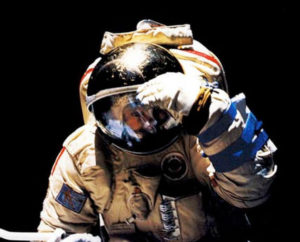 Russia's national space agency, Roscosmos, has formally offered its assistance to the Indian Space Research Organisation (ISRO) in the selection and training of Vyomanauts as part of the Indian government's human spaceflight programme, Gaganyaan.
The offer was made during a meeting between Roscosmos and ISRO officials in Moscow on 14 September 2018.
"Talks were held with the Indian side. A proposal was made about Russian specialists' assistance in conducting various stages of selection of candidates for the flight, as well as (the candidates) passing a training course in Russia and assistance in the subsequent training of Indian astronauts in India," an unnamed Roscosmos source told Russian news outlet Sputnik.
In August 2018 Indian Prime Minister Narendra Modi announced the Gaganyaan programme that aims to send three Vyomanauts (Sanskrit for space travelers) into Earth orbit by 2022 in an Indian-made spacecraft launched by an Indian launch vehicle. While it is widely acknowledged that India has the required expertise, skills, and technologies to mount such a mission, it is deficient in its ability to select, train, and support its Vyomanauts.
Indeed, senior Indian officials have said that they will be seeking to cooperate with friendly space powers that have established human spaceflight programmes to provide support in Vyomanaut selection criteria and training, as well as in biosciences and space medicine. Such friendly space powers include the European Space Agency (ESA), Japan, United States, and Russia, given their extensive experience in selecting, training, and supporting astronauts and cosmonauts over the decades, and more recently for missions to the International Space Station (ISS).
ISRO agreed with the French national space agency, the Centre national d'études spatiales (CNES), only the other week for the latter organisation to provide extensive space medicine support to the Gaganyaan programme.
India and Russia have maintained a deep strategic partnership over the decades, with Moscow acting as a significant arms and technology supplier to New Delhi since at least the 1950's, and given Russia's deep expertise in Cosmonaut selection and training, it was almost inevitable that Roscosmos would make its offer to ISRO, though any Vyomanaut training will also likely involve American and ESA or Japanese training at a later stage.
The offer to ISRO also adds another data point to suggest that Roscosmos is developing a money-making strategy of offering countries around the world services required to kickstart human spaceflight programmes. To date it is known that Roscosmos is already providing astronaut training for the UAE's Astronaut Programme, and has offered such training to Bahrain and Malaysia.