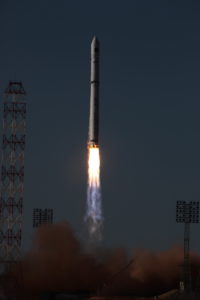 The Russian private company S7 Space, the launch operator of the Sea Launch platform and the Land Launch from the Baikonur Cosmodrome, has offered Kazakhstan to use the Zenit launch vehicle. The purpose of the proposal is to accelerate the implementation of the space program and to carry out the first commercial launches not in 2025-2026 as planned previously, but as early as 2019. According to S7 Space, they have all technical and organizational capabilities required.
'I emphasize that the Zenit rocket was created and used with the potential of Ukraine, Russia, the cosmodrome in Kazakhstan and the Sea Launch platform. In fact, this rocket is an international one. The private company ordered its production and delivery. I hope for the effectiveness of private project management', Nurlan Aselkan, editor-in-chief of the Space Research and Technologies magazine, says.
'In May 2018 during the KADEX-2018 exhibition KazCosmos (Kazakhstan's national space agency) received a proposal for cooperation from the S7 Space company, which has recently acquired the Sea Launch complex. Both parties will benefit from comprehensive utilization of Zenit launches from the sea and the Baikonur Cosmodrome. There is another option. S7 Space becomes responsible for the manufacturing of the rocket through its private subdivision by supplying the necessary components to the plant in Dnepropetrovsk, Ukraine and the subsequent delivery of the rocket to the Baikonur Cosmodrome. This will allow us to find a solution for an almost non-solvable political problem', Aselkan says.