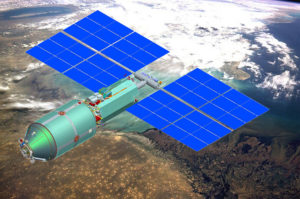 Pressurized and unpressurized hulls for the Science and Power Module (SPM) are currently undergoing service life tests, expected to be completed in February 2019. The module is planned to be added to the International Space Station (ISS).
According to Roscosmos, 'The service life tests are expected to be completed in February 2019, after which the pressurized hull of the Science-Power Module-1 is to be transported to the Cosmonaut Training Center, where it will be used for training'.
Service life tests include low, but multiple and systematic loads both on the whole hull and on separate brackets, which imitates the module's operation in orbit being part of the ISS. The module is going to experience such loads for many years of service.
Previously, static tests of both SPM hulls were successfully completed in the Central Research Institute of Machine Building (Roscosmos Head Science Institute). During the tests, the strength requirements of the hulls were met. It was specified by Roscosmos that the service life tests are to confirm the SPM hulls' compliance with the technical project requirements, according to which the in-orbit operation period is 15 years.
In total, three SPM hulls have been built: two for static, life service, vibration strength, modal tests and hydrolab crew training, as well as a flight test article.
The SPM development began in late 2012, when the Rocket and Space Corporation Energia won a tender for developing the scientific and energy module for the ISS. Under the contract, the module was scheduled to be completed by the end of November 2015, but by that time only the documentation had been developed.
The SPM is planned to be launched to the ISS in 2019 with the help of the Proton-M rocket. The volume of the module is about 30 cubic meters and its power output will be 18 kW of electricity per day.
As previously reported, if the ISS program were finished in 2024, the scientific and energy module and the two new Russian modules, the multipurpose Nauka ('Science') module  and the nodal 'Prichal' module ('Nodal Module 'Berth'), were to be undocked and to become the core of the Russian national space station in low Earth orbit.