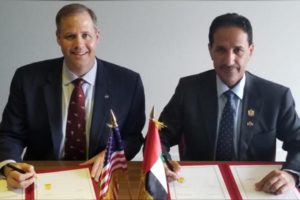 The UAE Space Agency has signed an agreement with the U.S. space agency, the National Aeronautics and Space Administration (NASA), to cooperate in the peaceful uses of outer space and with the new UAE Astronaut Programme.
The letter of intent was signed by Dr. Mohammed Al Ahbabi, Director-General of the UAE Space Agency, and NASA administrator James Bridenstine. The signing took place at the Farnborough International Airshow, held in the UK last week, in front of several officials and representatives from the two sides.
This agreement with the United States comes as the UAE national space sector enters a new phase of activity. The UAE Astronaut Programme has recently announced the selection of nine candidates who will undergo a period of assessment and training to select the first team of UAE astronauts. Following the final selection of the team of four astronauts, the first Emirati astronaut is scheduled to launch and arrive at the International Space Station in April 2019, via a Russian spacecraft.
"This agreement strengthens our ongoing mutual collaboration and contributes to the strategic objectives of the UAE Space Agency," said Dr. Al Ahbabi, speaking at Farnborough. "The formation of close partnerships with leading space agencies and organisations around the world continues to contribute to the strengthening of our international standing within the global space sector.
"This agreement is particularly important due to NASA's wide-reaching expertise in manned space missions. NASA has a record number of successful manned spaceflights that have brought significant contributions to humankind's development, and our agreement with NASA will enhance our national capabilities in this advanced field," he added.
A high-level delegation from the UAE Space Agency participated in the Farnborough International Airshow and met senior leaders from the global space sector. The agency also took part in the Space Zone exhibition, during which agency officials observed and discussed the latest industry developments with counterparts from other international organisations.