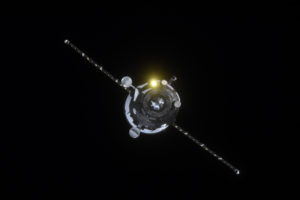 On July 10, the 2018 Progress MS-09 (Progress 70 or 70P as identified by NASA) resupply vehicle made history by reaching the International Space Station in the record-short time of only 3 hours and 40 minutes (and two orbits) after launch. Unfortunately, that remarkably short ride failed to make headlines in the Russian mainstream media except for the usual brief daily reports.
Although automatic resupply missions have been routine operations in piloted Russian and other nations' space programs for decades now, they normally used to take days to reach their orbital destination. For example, the previous Progress mission, MS-08 (69P) docked to the Station two days (and 34 orbits) after launch. In 2013 a new six-hour rendezvous profile (four orbits) was successfully tested first on Progress vehicles and then used for some of the Soyuz rides.
It was not a commercial or private space mission. However, it makes sense to try and fit this event into the wider perspective of present-day space. First, an obvious importance of such an extra-short resupply mission is simply the ultra-quick delivery of any extra supplies or expendables the international crew might require in case of emergency. Despite the ISS being stocked with food and other supplies enough to last for months (as exemplified by the recent 2015 Progress failure when the crew operations continued as planned with no interruptions), some critical items such as medication for a sick crew member could now be delivered up within hours provided there were a spare Progress vessel and a Soyuz rocket on standby.
Future Soyuz crews might also travel to the Station using this two-orbit rendezvous profile once it has been sufficiently tested by the Energia Corporation engineers. The autonomous flight time for a Soyuz spacecraft is only about four days, which means that a shorter trip leaves much more food and fuel in case of any emergencies.
Current U.S. space trucks operated by SpaceX and Orbital ATK as part of the Commercial Resupply Services (CRS) contract with NASA normally take around three days to reach the Station, way longer than the less-than-4-hours Progress record. This could potentially give an edge to the veteran Russian cargo spacecraft. That said, SpaceX's Dragon resupply vehicle is capable of delivering up to 6 tons of cargo to Low-Earth Orbit (LEO), both in its pressurized and unpressurized section, which significantly exceeds the 2.3 tons delivered by Progress. However, Dragon truly beats its Russian counterpart with something the latter can't do at all: it can return up to 3.5 tons of payload in its capsule and the capsule itself is reusable. As of the date of this writing, the most recently launched Dragon capsule, CRS-15, was the fourth reuse of a previously flown Dragon capsule. Technically, it is possible for Dragon to use shorter rendezvous profiles, but whether this option will be exploited by SpaceX for faster deliveries remains to be seen.
By way of summarizing it can be said that the above mentioned delivery time breakthrough on the part of the Roscosmos-operated Progress series has a potential to help cut crew delivery times to the ISS, thus minimizing crew safety risks and allowing for better crew comfort in the cramped internal volume of the Soyuz vehicle. If the following Progress missions stick to this two-orbit rendezvous profile, very speedy delivery of critical supplies, including health-critical items, can be possible in case of a health emergency or unforeseen supply depletion onboard the station when the difference between hours or several days can be a matter of life and death. However, despite these apparent advantages, the new rendezvous route relies on an aging spacecraft model which has been regularly upgraded in terms of onboard electronics as well as control and docking systems, but offers no upgradeability in terms of payload return capacity and partial hardware reusability (Progress vehicles nominally burn up in the atmosphere following their undocking from the ISS, their final role being that of station waste disposal vehicles). In this regard, the Dragon cargo resupply vehicle with its reusable capsule scores a clear point. Reusability has been advertised by SpaceX's CEO Elon Musk as his company's path to reducing launch cost per unit of cargo or crew member. With the upcoming crewed version of Dragon (also known as Crew Dragon and Dragon V2) designed to accommodate a maximum crew of 7, its edge over the Soyuz vehicle, whose maximum capacity is 3 crew members, becomes even stronger. Another commercial crewed vehicle for LEO, currently developed by Boeing, the CST-100 Starliner, will also accommodate up to 7 crew members and be partly reusable.
Therefore, new reusable cargo and crewed vehicles are required to enable Roscosmos to match the payload and crew delivery capabilities of the current U.S. commercial spacecraft. Roscosmos is currently developing and testing a partly reusable new-generation Russian crewed spacecraft called Federatsiya ('Federation'), with the maximum crew capacity of 6, which should put the Russian agency's LEO cargo and crew capabilities on a par with its U.S. counterpart and is expected to replace the aging Soyuz and Progress fleet sometime in the 2020s. In addition to that, the new Russian piloted spacecraft is planned to be used for delivering crews to cislunar space, something which Dragon V2 and Boeing's CST-100 are not capable of. This puts Federatsiya on a par with NASA's currently developed Orion spacecraft that will be used for crewed deep space missions.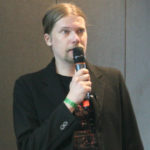 Dmitry Oliferovich is a space exploration educator, lecturer, member of the youth section of the Federation of Cosmonautics of Russia, founder and director of the English space speaking club The Astronauts, editor, SpaceWatch.Global Russia&CIS. His main focus is on challenges and prospects of human spaceflight.
СохранитьСохранить
СохранитьСохранить