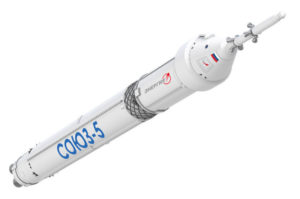 Russian enterprises have started developing a medium-lift launch vehicle Soyuz-5, said Dmitry Rogozin, General Director of the Roscosmos State Corporation. He has written in his Twitter that 'Rocket and Space Corporation Energia, Progress Rocket Space Centre and Joint Stock Company 'NPO Energomash' started developing Soyuz-5 rocket. Afterwards we are going to develop a heavy-lift launch vehicle. This will allow us to mobilize the entire rocket and space industry, update it and use our powerful design and production capabilities'.
Roscosmos is planning to spend more than $963 million to develop the rocket. Subsequently, the project's scientific and technical developments are to be used in creating the super-heavy lift vehicle Energia-5, which Rogozin mentioned in his message. Russian space industry leaders hope that Soyuz-5 will be able to compete with other launch vehicles and give Russia a share in the launch services market back. The cost of a Soyuz-5 launch is estimated at $55-56 million.
Soyuz-5 will be developed on the basis of the Zenit rocket. For the first stage, the RD-171 engines are to be modernized, they will obtain new characteristics. The first rocket's flight tests are planned for 2024, the beginning of the commercial usage – in 2025. After launching into mass production, the rocket will be capable of placing into the low Earth orbit up to 17 tons of payload.
The new rocket is expected to replace all existing analogs of the medium-lift and heavy-lift launch vehicles – from Soyuz-2 and Zenit to Angara and Proton-M. Soyuz-5 will also be used to launch the new generation Federation crewed spacecraft. To accomplish it, the launch complex of the Zenit rocket is planned to be upgraded.