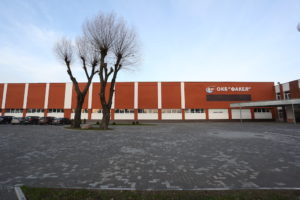 Federal State Unitary Enterprise Experimental Design Bureau FAKEL (hereafter referred to as EDB Fakel) is one of the leading companies in Russia and in the world, having a 55-year experience in development of Electric Propulsion Systems (EPS), and more than a 40-year flight experience in Electric Propulsion Subsystems based on Stationary Plasma Thrusters (SPT), which were successfully used for station-keeping purposes aboard such spacecraft as Meteor and Meteor-Priroda in the 70s, and which have been used aboard spacecraft (S/C) of the Kosmos and Luch family since 1982, as well as aboard Gals and Express since 1994.
Fakel's press centre answered SpaceWatch.Global's questions about the company's current market position and challenges, its expansion plans and more.
Could you, please, tell us about the current situation and about the enterprise development? Do you manage to hold on a market share?
EDB Fakel is one of the leading developers and suppliers of electric propulsions both for Russian and foreign spacecraft (S/C). EDB Fakel's share in the global propulsions production for S/C is about 10%.
According to the majority of predictions in the industry, the planned programs anticipate from 20 to 25 geostationary satellites manufactured annually for the next 5-10 years. Heavy-mass satellites (more than 5.5 ton), equipped with electric propulsion systems, will count near 40% in 2018-2019.
There is also an actively growing demand for the SPT-140/140D type of thruster due to the fact that foreign satellites become heavier and more powerful and also due to the fact that other potential mission tasks come up (apart from a geostationary maneuvering), including interplanetary transfers and deep space flights. The prediction for 5 years ahead is from 4 to 6 S/C in this category per year.
Is the demand from foreign companies growing?
The co-operation experience with Space Systems/Loral (SS/ Loral), USA, and Airbus D&S (Astrium SAS), France, results is a slow but steady growth in using the enterprise's thrusters in these companies' satellite programs (e.g., as of the year 2009, the known figure counted 10 out of 24 SS/L's programs). In the course of time the percentage ratio will have a stable growth. About 70% out of 225 satellites, for which there are plans to conclude contracts for the next 5-8 years, will be equipped with electrical propulsion systems.
What order share goes to international contracts?
For the last 4 years the share of foreign contracts increased by 30%. There are strong reasons to believe that a limit is not there yet.
Is the line of thermal catalytic thrusters on "green fuel" supposed to be extended?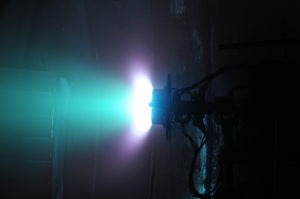 Hydrazine thrusters, made in Kaliningrad, have already been used on domestic spacecraft in the attitude control and correction systems for more than 35 years. In space there have been more than 3500 such thrusters and all of them were operating without failures. The enterprise has begun developing thrusters on "green fuel" with the thrust of 1 N and 5 N. The interest in this direction is explained by a higher specific impulse, lower freezing temperature and the main peculiarity is that the monopropellant is ecologically safe. Moreover, the propellant, based on hydroxylammonium nitrate, has a density that is by three times higher than that of hydrazine. The engineering models operability in impulse and continuous operation modes have been validated by firing test. The main objective of the works is to improve the engineering models technical excellence, optimize the operating process and make the reliability comparable to the modern hydrazine thrusters. For that there are basic technologies, workable models, skilled personnel and test facility.
Are there any unique developments that have no analogues in the world?
Currently, there is a big interest to the thrusters used for spacecraft control. Many firms abroad are working on that and it is difficult to surprise anybody. Now EDB Fakel has a parametrical row of stationary plasma thrusters (SPT) with a power of up to 25 kW covering practically all the range of required output parameters for this type of thrusters. EDB Fakel's SPTs are actively used aboard Russian and foreign S/C. Technical characteristics of SPTs and electric propulsion systems, produced by EDB Fakel, are in line with the characteristics of the best analogue products made in the world. EDB Fakel pays a special attention to the development of critical technologies and to the manufacturing of component parts to ensure a technological independence in production.
Now it is time for a wide use of the multi-mode stationary plasma thruster SPT-140 with a power of up to 6 kW for spacecraft orbit raising. Since 2017 the SPT-140 thruster has been successfully used aboard the European satellite Eutelsat 172-B and since 2018 as a part of SES-14 for the S/C raise from a transfer orbit to a geostationary orbit, as well as for station keeping on the geostationary orbit. The SPT-140 thrusters are delivered to foreign customers; this type of thrusters has been also qualified for flight test according to the requirements from Russian customers. Its high efficiency has been proved by many years of work, where almost a 2-year continuous operation brings no significant signs of performances degradation. The thruster operation duration will depend on the amount of propellant (Xenon) aboard the S/C. By using these thrusters it becomes possible to remove the restriction to the mass of launched spacecraft, however, the firing operation may last for several months. The next step in this direction is a creation of the SPT-230 thruster that is capable of operating in a discharge power range from 4.5 to 25 kW. This thruster will be able to use all electrical power available for the S/C. At present time, an engineering model has been developed and design is being optimized.
The SPT-100B thruster is still demanded and considered to be one of the best thrusters in its class for a set of output characteristics, reliability and a level of service in flight. About 500 such thrusters have already been in use in space. The modified version – SPT-100BM – has seen not only a 10% increase in thrust but also the plume divergence decrease down to 30о to reach a new technical level. It is known that due to the plume divergence the thrusters aboard the S/C have to be deflected from their optimal position to protect solar arrays, antennas and other devices from damage from a high-energy plume. By means of thrusters installation at optimal angles the thruster use efficiency is expected to be by 30% higher. The SPT-100BM designed lifetime is an additional option and it is more than 12 000 hrs. It is important that the interface has been kept unchanged in the new thruster, what will enable to use it without any retrofitting instead of the traditional SPT-100B.
The SPT-50 thruster with a power of up to 700 W is also modified. Thanks to transition to a more high-voltage operation mode, its specific impulse has been increased from 850 to 1250 sec. Such a thruster will definitely be called for on small spacecraft.
Is it supposed to offer your technologies to the incipient market with multi-thousand satellite constellations for low-orbit internet?
It is also worth mentioning about the perspective market of relatively cheap low-orbit spacecraft, whose possible and quick success may be significant and ever changing the present-day market paradigm from big to small spacecraft. Currently, our enterprise is actively working on OneWeb project.
EDB Fakel has signed a contract with Airbus OneWeb Satellite, but we cannot reveal the details now for confidentiality reasons.
Moreover, it should be noted that for today EDB Fakel has already received several proposals to deliver serial produced thrusters for satellite constellations, which ideas follow the OneWeb concept.
How are works going on the project of the electric propulsion interorbital tug with a nuclear reactor? 
As for this moment the EDB Fakel does not participate in this project. So far the priority use for our thrusters is orbit raising of a spacecraft, what has already been done on Eutelsat 172B and SES-14. The only expendable element on these spacecraft is Xenon, but the rest of equipment is used for its original purpose. Nevertheless, having a significant technological background, the EDB Fakel is ready to join this project.
How do you see the future of the enterprise in the view of 10 years? Or 20 years?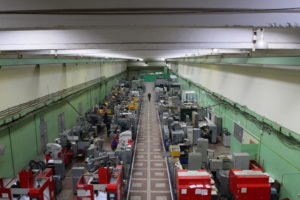 In the near-term prospect the use of the SPT-140 and SPT-50 will be extended, that is why we will have to build up production volumes and maintain the quality of the delivered products. It will be necessary to complete qualification of the thrusters on the "green fuel" and of the SPT-230. We will lay the stepping stone for the stationary plasma thrusters with a power from 100 W for small spacecraft.
EDB Fakel is a dynamically developing enterprise with a closed-loop manufacturing cycle: development – manufacturing – experimental testing – delivery. We are able to accept the challenges in the future and ready to extend the line of thrusters towards both increased and decreased powers, as well as to conduct products development and modification as required by every customer.
What developments are in progress to extend the markets? What are you doing in this direction?
We are actively co-operating with many young Russian and Western start-up companies which contact us. Our specialists participate in discussions about possibilities to use our thrusters on small satellites which could serve individuals.
In 2016 in frames of ILA2016 the 2nd Eurasian aerospace conference took place named as "Strategic changes in the world aviation and space industry: new managerial challenges". EDB Fakel's director presented a report to the audience named as "Modern challenges for the production development concepts in space technology and its use". The market of space technology undergoes fundamental changes, what makes one think about a development and introduction of a new development concept for space hardware production, which should be characterized with new manufacturing approaches. The right way chosen for the modern development in space industry was confirmed by professor Klaus-Peter Ludwig's report, director of the International space institutes, Airbus Defence and Space, which was named as "The new space – a global strategy-changing phenomenon".
Professor Klaus-Peter Ludwig also supports the idea that space services for individuals are a very important and perspective direction in the space industry today.
What other prospects do you see in the international trade extension and in the work for the state?
Following the decisions made by the State Corporation Roscosmos, telemetry systems, command and tracking, signal acquisition systems are being located at EDB Fakel's facilities to control spacecraft, as well as to receive measuring and target-oriented information from the rocket-space equipment.
Aimed at development of a Unified wide-area information system for the Earth remote sensing from space, in September, 2015, Roscosmos decided to establish a Western regional center for reception, processing and distribution of space information on the basis of the ground tracking station located at EDB Fakel.
The main objectives of the Baltic command and tracking station are to ensure in-flight control for scientific and social-economic purpose S/C, including manned S/C launched in the international co-operation interests, as well as telemetry data reception from scientific and social-economic purpose S/C, data registration and data transmission to the telemetry information users.
At present time due to an increased number of low-orbit S/C EDB Fakel is working to commercialize the services, provided by the Baltic command and tracking station, under hosting and/or possible lease terms. From our point of view, it may become one of the development directions and diversifications of EDB Fakel's activities both at domestic and international markets.