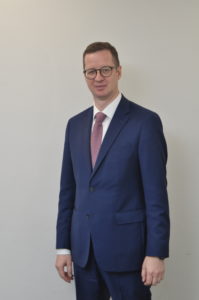 Glavkosmos is a subsidiary of Roscosmos State Space Corporation responsible for coordination of the international projects of ROSCOSMOS. The company has been on the market for more than 30 years now and has an impressive portfolio of more than 120 international contracts in space domain.
We talked with Denis V. Lyskov, director general, about the company's goals and priorities and how it manages to adapt to the aggressively competitive space market of today.
Have the goals and priorities of Glavkosmos changed since its creation in 1985?
Glavkosmos was established over 30 years ago when the Main Directorate on Spacecraft Design and Application for the National Economy and Scientific Research 'Glavkosmos USSR' was created as part of the Ministry of General Machine-Building Industry of the USSR (MOM). The company's primary task was finding international partners for commercial application of launch vehicles and spacecraft. The company was tasked with a daunting challenge of representing Soviet and later Russian interests on the international space services market.
As early as 1986 the first international commercial projects had been implemented. In 1990 Glavkosmos began to act as the coordinating body for international manned space projects.
Today we boast more than 130 completed international contracts as well as serving long-term customers and partners who have been loyal to us for over 30 years now.
We are trying to stay tuned to the tendencies of the modern market. Previously, our strategic goal was development and advancement of the Russian space industry in order to enter the international market. Today we are focused on launching new projects aimed at modernizing and developing our country's space industry potential.
We look for new partners; we offer our own brand new services that will help us bolster our company's standing on the international space market.
What is your vision of an innovative space business?
We try to formulate such objectives that we will be prepared to achieve on the modern market. New challenges, for instance, prompt us to find ways to collaborate with the private space industry.
In April 2017 we co-founded a new launch operator in collaboration with Kosmotras, called GK Launch Services. This company is responsible for commercial launches with the Soyuz-2 family as part of the Roscosmos State Corporation's activities.
Working actively on the commercial launch market has brought the first fruits – we have secured contracts to provide launch services for South Korea, which are scheduled to take place in 2019-2020. Right now we are in talks on other launches slated for 2019-2021. As for the medium-class Soyuz-2 launch vehicle, it is considered to be one of the most reliable rockets in the world and is currently the only rocket that is used to launch crews into space. These factors give us an important edge – we offer competitive prices, we enjoy our customers' trust, and the insurance rate is low.
How does Glavkosmos react and adapt to the current aggressive redistribution of the launch market?
There is a disproportion between the relatively small number of rocket launches taking place globally and the large number of satellites that these rockets put into orbit. This is a direct consequence of miniaturization of modern satellites, enabling a co-manifested launch to low-Earth orbit of whole constellations with only one rocket. This new trend has formulated new launch requirements that modern launch vehicles must meet. The Soyuz-2 rocket with the Fregat upper stage is a unique configuration that is capable of launching both interplanetary missions and swarms of tiny satellites to different orbits.
We plan more than 20 Soyuz-2 launch events for 2018-2019 commissioned by the British OneWeb consortium, where a single launch will deploy more than 30 satellites. In 2017 we successfully deployed more than 70 small satellites co-manifested with the Canopus V-IR satellite payload.
Has your relationship with the customers changed in any way over the past few years after the sanctions had been imposed?
Currently, the overall political situation can be described as pretty complex and this has affected many sectors of the national economy. Luckily, the space industry is currently an exception. International partnership on the International Space Station continues, and we provide launch services to international customers and work on other projects.
Could you name the most promising areas of development for your company?
Glavkosmos and its partners are currently implementing a cooperation project with the nation's leading industry-related universities in the area of developing promising space technologies. As part of this project, integrated low-cost solutions will be offered regarding CubeSat launch and manufacture.
Furthermore, we see great potential in marketing rocket and satellite components, so we are planning to create an online catalog of components manufactured by the industry, which will be akin to an online store.
Glavkosmos and the ISS
The Roscosmos State Corporation is working in close collaboration with its international partners and other enterprises of the Russian space industry to increase commercial participation in the ISS project and make it cost-effective.
Glavkosmos was created as part of the Roscosmos State Corporation, so we are taking part in this process. Currently, a number of possible scenarios of commercial use of the Station are being considered. In addition to that, we are learning from the relevant international experience, such as NanoRacks, CASIS etc.
Glavkosmos and Earth remote monitoring
Have you had good sales of remote Earth monitoring data? What are the new objectives to be achieved?
In late 2016 Glavkosmos became the official distributor of data collected by the Russian Earth remote sensing constellation. It's been a pretty busy time since then, analyzing market demand for the data and the services based on these data in different countries, our goal is the creation of a competitive proposal on the international market. Glavkosmos has successfully implemented a number of service-providing projects using Earth remote sensing data obtained by Russian remote sensing satellites. Currently, we are negotiating collaboration with several potential international customers.
What are the most in-demand remote sensing data? Who are your main customers?
By our estimates, remote sensing satellite operators still get most of their income from supplying the raw signal as well as processed data. However, there is a certain tendency towards higher demand for remote sensing data in such areas as wildfire monitoring, mapmaking, forestry, water industry, ice monitoring, etc.
Are you forming new proposals for Roscosmos regarding the development of the Earth remote sensing satellite constellation based on the market demand?
Glavkosmos provides regular information support of the Roscosmos State Corporation regarding the current state of the remote sensing data market and creates its own proposals for the development of the Russian sector in this segment.
Do you have plans to target new markets?
A lot of nations are currently aimed at developing their own space programs. Currently, we are actively collaborating with some Arab countries as well as customers from South-East Asia. Countries with emergent space industries are our primary targets.
We can offer our international partners not only launch services, but also 'ready-to-operate' solutions, projects for developing their own piloted space programs and building small satellites.
A lot of competing space businesses are investing aggressively in advertising and PR. Even such a relatively new player as the Indian Space Research Organisation (ISRO) broadcasts launch events from onboard cameras until payload separation. Do you think the Russian space industry should consider doing this kind of promotion as well?
Over the past few years, space education efforts in Russia have been taken to a new level. New projects began to emerge aimed at getting young people interested in the space program.
Space museums are re-thinking the way their collections are presented to visitors, with interactive exhibitions becoming commonplace, and feature films about the Soviet space heritage are made.
It's crucial that people don't forget their history. We have to thank Soviet scientists and engineers for our current ability to travel in space. A Soviet citizen, Yuri Gagarin, became the first human to travel in space and his heroic feat pioneered the way to the stars.
Every launch is broadcast live online, with every phase shown: from launch preparation to the crewed spacecraft orbit insertion.
There is an option for the camera to be installed on the launch vehicle's upper stage to broadcast live during the launch. This is optional and can be requested by a particular customer.
SpaceWatch.Global thanks Denis V. Lyskov of Glavkosmos for the interview.