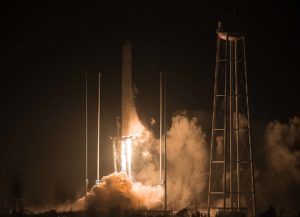 The Yuzhnoye Design Office continues its collaboration with Orbital ATK on the production and launch of the Antares launch vehicle. The area of responsibility of the Ukrainian enterprise is the hardware for the rocket's first stage.
The Orbital ATK Antares rocket carrying the Cygnus automated cargo spacecraft was successfully launched on May 21, 2018 at 5:04 a.m. EDT from the Wallops Flight Facility in Virginia. The Cygnus spacecraft reached the ISS on May 24.
The Antares launch vehicle was developed by Orbital Sciences Corporation (USA) to deliver payloads of up to 8 tons to low Earth orbit. The basic design of the Antares first stage was developed by the Yuzhnoye Design Office (Dnipro, Ukraine). Elements of the first stage were manufactured by the State Enterprise Production Association Yuzhny Machine-Building Plant named after A.M. Makarov (Dnipro); Khartron-ARKOS (Kharkov); Kyivprylad Production Association State Enterprise (Kiev), Khartron Public Company (Zaporozhye), Chernihiv Plant of radio equipment, RAPID Plant (Chernigov), etc.
According to the Antares overview published on the Orbital Sciences Corporation website, the Yuzhnoye Design Office designed and manufactured the Antares first stage structure. The Yuzhnoye Design Office's area of responsibility is the propellant tanks, pressurization tanks, valves, sensors, feed lines, tubing, wiring and other associated hardware for the stage. The Office developed this hardware and oversaw its manufacturing at the Production Association Yuzhny Machine-Building Plant named after A.M. Makarov.
Ukrainian specialists were also involved in preparing the Antares rocket for launch. All technical operations, including telemetry data reception and real time data processing were provided by the Yuzhnoye Design Office.