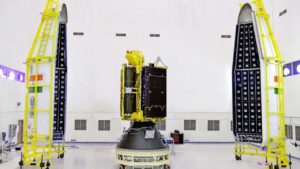 The Indian Space Research Organisation (ISRO) confirmed on 1 April 2018 that it had lost contact with the GSAT-6A communications satellite that had just been launched on 29 March 2018.
The GSAT-6A communications satellite was to provide mobile satellite services (MSS) communications across the Indian subcontinent in both S-band and C-band, with the Indian armed forces set to be a major user of the system. It was built to operate for over ten years after reaching its orbital slot.
The loss of contact from GSAT-6A reportedly occurred on 31 March 2018 just after the second orbital raising operation to its geostationary slot by ISRO. GSAT-6A's liquid apogee motor (LAM) had fired successfully for 53 minutes but ISRO engineers lost contact with the satellite four minutes later. The launch and both orbit raising operations were believed to have been flawless, but speculation in the Indian press suggests that there was a power failure onboard GSAT-6A.
Late on 1 April 2018, ISRO issued a statement, but has not commented since at the time of this report. The ISRO statement read, "The second orbit raising operation of GSAT-6A satellite has been successfully carried out by LAM Engine firing for about 53 minutes on March 31, 2018 in the morning. After the successful long duration firings, when the satellite was on course to normal operating configuration for the third and the final firing, scheduled for April 1, 2018, communication from the satellite was lost. Efforts are underway to establish the link with the satellite."
The ISRO Chairman, Dr. K. Sivan, has been working with ISRO officials and engineers to coordinate a recovery attempt of GSAT-6A, though at the time of this report's publishing no word had been received as to whether these efforts have been successful.
If GSAT-6A is unrecoverable then it will be the first mission failure under the chairmanship of Dr. Sivan, and the second ISRO mishap in six months since the loss of the IRNSS-1H navigation satellite that was launched on ISRO's Polar Satellite Launch Vehicle (PSLV)-C39.