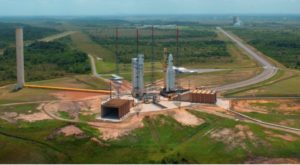 As another year of successful Arianespace launch activity draws to a close, two satellites for its first mission of 2018 are now in French Guiana – positioning them for liftoff on January 25, 2018, from the Spaceport on a heavy-lift Ariane 5.
Arriving December 22, 2017, was SES-14 for Luxembourg-based telecommunications satellite operator SES, which was flown into Félix Eboué Airport near the French Guiana capital city of Cayenne. Once it was transferred by road to the Spaceport, it joined the mission's other payload: Al Yah 3 for Al Yah Satellite Communications Company PrJSC, located in the United Arab Emirates at Abu Dhabi.
The January 25 mission to geostationary transfer orbit is designated Flight VA241 in Arianespace's launcher family numbering system, signifying the 241st flight of an Ariane series launch vehicle.
SES-14 will rely on electric propulsion and will be equipped with an electric plasma propulsion system for orbit raising and in-orbit maneuvers.
C- and Ku-band coverage with SES-14
To be positioned at 47.5 degrees West, SES-14 will serve Latin America, the Caribbean, North America and the North Atlantic region with its C- and Ku-band wide beam coverage as well as Ku-band high throughput spot beams coverage.
The relay platform's C-band wide beams are designed to expand the reach of SES's second cable neighborhood in Latin America, while its Ku-band high throughput spot beams will serve the dynamic aeronautical market and other traffic-intensive applications such as maritime, cellular backhaul or broadband services. Ku-band wide beams on the spacecraft also will serve growing direct-to-home and VSAT services in the Americas and the North Atlantic.
The spacecraft also has a NASA-funded hosted payload for the Global-scale Observations of the Limb and Disk (GOLD) mission, which is to deepen scientists' understanding of the nearest reaches of space. GOLD will provide unprecedented imaging of the Earth's upper atmosphere from geostationary orbit, and will be the first mission with a cadence fast enough to study the daily weather of the thermosphere-ionosphere rather than its long-term climate.
Al Yah 3 undergoes pre-launch processing at the Spaceport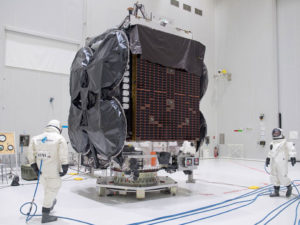 With SES-14's arrival in French Guiana, the satellite will join Flight VA241's other passenger, Al Yah 3, which is undergoing pre-launch preparations in the Spaceport's S5 payload processing facility.
Al Yah 3 is the first hybrid electric propulsion GEOStar-3 satellite to be completed by Orbital ATK. It was built at the U.S. company's satellite manufacturing facility in Dulles, Virginia, and shipped to the launch site on November 28.
As an all Ka-band high-throughput and light-weight satellite, Al Yah 3 will provide affordable broadband communications to 60 percent of Africa's population and more than 95 percent of Brazil's population