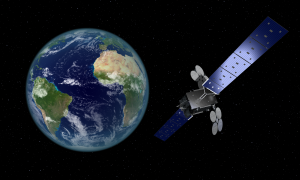 After a fraught launch on January 25, 2018, where Arianespace failed to receive telemetry from the Ariane 5 space launch vehicle (SLV) at a critical stage during liftoff, the two satellites placed into Earth orbit by the launcher are said to be recoverable.
Both Yahsat and SES have stated that despite their satellites failing to reach their intended orbits, they are eminently recoverable and should be able to provide coverage as planned in the coming months.
Yahsat officials said that they intend the Al Yah-3 satellite to use a "revised flight plan" in order to provide planned coverage over much of Africa and Brazil.
U.S. Air Force Space Command, who operate the most extensive and comprehensive space tracking and situational awareness network in the world, indicated that both Al Yah-3 and SES-14 are in orbits of 235 by 43,150 kilometers instead of the intended 250 by 45,000 kilometers. Data from Air Force Space Command also suggests that the satellites are in orbital inclinations of 21 degrees, much higher than the planned three degree inclination.
As yet it is not certain how the orbital anomaly will impact Yahsat's business plan for Al Yah-3.
It was intended that Al Yah-3's Ka-band transponders would provide coverage to 60% of Africa and 95% of Brazil, with companies such as Eutelsat and Talia planning to use the satellite for their businesses.
Yahsat have said that after Al Yah-3 has completed its orbit raising using the satellite's chemical propulsion system, there will be a long period of testing its systems in order to establish whether the company's original business plan for the satellite can be implemented.