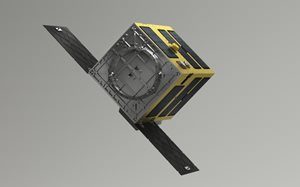 ASTROSCALE PTE. LTD. and Surrey Satellite Technology Ltd (SSTL) have signed a Memorandum of Understanding to pursue joint opportunities in areas of innovative on-orbit technologies and missions designed to safeguard the orbital environment for future generations.
ASTROSCALE and SSTL have agreed to long-term strategic cooperation that further positions the companies to compete globally in the growing small satellite and orbital debris removal markets. Together the companies will seek to identify ambitious debris removal projects and joint offerings for competitive small satellite missions in Japan. As a first step, ASTROSCALE has contracted SSTL to supply a "Target" satellite and avionics for its inaugural End-of-Life Service by ASTROSCALE-demonstration (ELSA-d) mission, which will simulate capture of orbital debris and is designed to validate key technologies for end-of-life spacecraft retrieval and disposal services.
ASTROSCALE hopes to establish a long-term presence in the UK, starting with the establishment earlier this year of an office and mission control centre in Harwell. This cooperation will lead to further investment in the UK, including potential establishment of a supply chain.
"We are very excited to welcome SSTL to the ELSA-d mission and to begin this ambitious strategic partnership," said Nobu Okada, Founder and CEO of ASTROSCALE. "SSTL is synonymous with reliable and cost-effective small satellites and we are thrilled that they will provide a key component to ELSA-d. We are confident that this is only the beginning of mutually beneficial long-term relationship."
Sir Martin Sweeting, Executive Chairman of SSTL added, "We are extremely pleased to be working with ASTROSCALE, a like-minded, innovation-driven company seeking to make space business viable for commercial operators. This practical solution to debris mitigation has the potential to provide a cost-effective approach for ensuring the long-term sustainability of the space environment for all."
The ELSA-d mission comprises of a "Chaser" satellite and the Target satellite, and will demonstrate key technologies necessary for orbital debris removal such as rendezvous and docking and proximity operations. ASTROSCALE will design and manufacture the Chaser at its R&D office in Tokyo, using avionics from SSTL. It will be equipped with optical sensing instruments and a redundant capture mechanism.
The small satellite remote sensing and orbital debris removal markets are predicted to grow significantly in the coming years. By agreeing to long-term strategic cooperation, ASTROSCALE and SSTL are now positioned to take advantage of these opportunities and positively impact future generations.
Original published at: https://spacewatch.global/2017/11/uks-sstl-astroscale-team-orbital-debris-removal-missions/