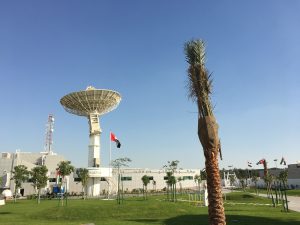 The Mohammed Bin Rashid Space Centre (MBRSC), the entity in charge of designing, implementing and supervising all the phases of the Emirates Mars Mission (EMM)- Hope mission under the supervision of the UAE Space Agency, has announced the launch of the 3rd Annual EMM Science Workshop.
The workshop will be part of the Mohammed bin Rashid Space Centre Science Event (MBRSC Science Event), that will be held under the patronage of His Highness Sheikh Mohammed bin Rashid Al Maktoum, Vice President and Prime Minister of UAE and Ruler of Dubai, on October 21, 2017, at Etihad Museum under the theme "Through Space we Flourish."
The third edition of the EMM science workshop will address various topics related to the Martian atmosphere and the scientific applications related to the Emirates Mars Mission to explore Mars. Members of the international and UAE science community, EMM science team, and students from the Research Experience for Undergraduates (REU) Programme, will present their recent research and studies on Mars and its atmosphere. This research will focus on studying Mars and understanding the characteristics of its climate change, and it will analyze the data to reach scientific results which explain why oxygen and hydrogen are escaping from the Martian atmosphere into space.
The 3rd Annual EMM Science Workshop targets school and university students, teachers, researchers, professors, the public, and people with different scientific backgrounds, with the aim of spreading knowledge about Mars and space science to stimulate their interest in these fields.
Omran Sharaf, Emirates Mars Mission – Hope mission project manager said, "Organizing the 3rd Annual EMM Science Workshop reaffirms our determination to increase the awareness and enrich the knowledge of all students and university professors in the country about Mars."
Sharaf pointed out that, "the topics that will be presented at the workshop will be an added value to the scientific studies and research, in addition to shedding light on new facts about Mars and its atmosphere, which is the main objective of the Hope mission."
"The science community in the UAE is witnessing remarkable development," Sharaf said.  He stressed that the, "cooperation with international academic institutions and launching research programmes for students related to space and Mars sciences, is important to make a shift in students educational directions, as well as helping the academic institutions build research capabilities in advanced sciences and technologies."
MBRSC Science Event is a scientific and educational initiative for the education, science, and technology sectors in the country. It aims to develop national capacity and capability in space science, engineering, and research by providing a platform that brings together students, experts, and decision-makers in the country to discuss the UAE's directions and the accomplishments. The event will also offer scientific and technological workshops and awareness activities to nurture a culture of research and development for future generations, reflecting the UAE's strategic objectives for the sector and building a generation of scientists and engineers.
Original published at: https://spacewatch.global/2017/10/uaes-mbrsc-launches-3rd-annual-emm-science-workshop/