Innovation labs, hubs and incubators are currently being developed and large, small and medium-sized enterprises want to digitize themselves with their help. The lab stimulates thought processes, enables open collaboration between creative minds and established structures, and often allows new business models, new products and ideas to be tested with little effort. This challenge is complex, but at the same time concrete, because every company is concerned with a very solid roadmap into the digital world – a roadmap that fits the company and its customers; which raises innovation potential; which combines the tried and tested company ship with the innovation speedboat.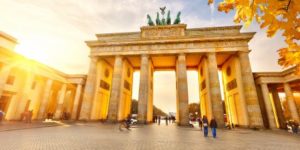 On 24th and 25th October 2017 in the Hotel Novotel Tiergarten in Berlin, a new conference "Innovations Labs – Your Roadmap to the Digital World" will be conducted in an interactive atmosphere where you are not only a spectator, but also a thinker and a stimulus for new ideas.The event will feature keynotes and case studies on digital enterprise transformation as well as disruptive innovation management in the corporate lab and eight world cafes and networks – all over two days – including a joint evening event on a houseboat on the Berlin Spree.
It is your opportunity to talk with industry representatives of the automotive industry, trade, chemicals and pharmaceuticals, aerospace and infrastructure: Airbus Defense & Space, BMW i ventures, Deutsche Bahn, Porsche, Evonik Industries, Hub Berlin, innogy innovation Hub Berlin, KUKA, MediaMarktSaturn Retail, Merck, Microsoft, SAP, PTScientists, Volkswagen Digital:Lab, ZF Friedrichshafen and more.
Gain insight into successful cooperations with start ups, which have already opened up new business fields for some companies though corporate venture management. How do ideas become marketable products and services? In our World Cafes, discuss testing methods and strategies for market access. Learn more about the ways in which hidden champions can successfully use Innovation Labs. The Innovation Labs conference is tailor-made for precisely this purpose.
Sign up now at: www.sv-veranstaltungen.de/labs and receive 20% discount on the regular fee by using the code word "spacewatch".
Original published at: https://spacewatch.global/2017/10/5871/