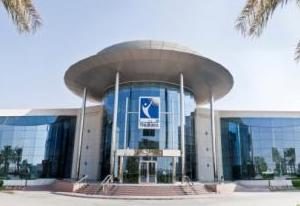 Thuraya Telecommunications Company is showcasing its recently launched Dual Mode Satellite & LTE Hotspot – Thuraya WE – along with service partner, Cygnus Telecom, during the Abu Dhabi International Hunting and Equestrian Exhibition (ADIHEX) held from September 12-16, 2017, at the Abu Dhabi National Exhibition Centre. Now in its 15th year, ADIHEX runs under the patronage of H.H. Sheikh Hamdan bin Zayed Al Nahyan and is the only dedicated hunting, equestrian, and outdoor sports exhibition in the region, which displays the best the trade has to offer. Thuraya representatives are stationed at booth 8-D05 for the entirety of ADIHEX and will be taking orders ahead of WE's market release at month end.

Sheikh Suroor bin Mohammed Al Nahyan visits Thuraya – Cygnus Telecom booth.
Launched in May 2017, Thuraya WE is the world's first dual mode hotspot – it merges both satellite and GSM broadband services, keeping users in touch with family and friends wherever they go. The terminal enables fluid roaming from terrestrial LTE services to satellite or vice versa, via either a Thuraya SIM or a standard GSM SIM from any of Thuraya's 395 worldwide GSM roaming partners. Designed for adventures on-the-go in any kind of environment, WE is light, portable, and offers flexibility; it weighs only 1kg and allows up to 10 smart device connections within a radius of 100 feet or more.
Fahad Kahoor, Thuraya's Director of Market Development, said, "Hunting, shooting, equestrian and other outdoor sports are a big part of Emirati history and culture. As a homegrown company, Thuraya is invested in promoting the country's heritage and is glad to be able to do so with the satellite voice and data terminals and satellite phones we offer. With Thuraya WE especially, we deliver a new technology that lends the most seamless and convenient communication solution for individuals and groups who want to go out into the desert and partake in their local traditions. Alongside our partners from Cygnus, we are happy to be at ADIHEX and look forward to meeting many adventurers, and explain how WE caters to their individual needs."
Bechara Baradhi, Commercial Director from Cygnus Telecom added, "We are excited to work with Thuraya in showcasing WE at ADIHEX. Cygnus has over a decade of experience in delivering turnkey telecommunications solutions to customers in the region. We believe this product will offer diverse capabilities and new functionalities to those on the move who want to stay in touch with family and friends while connecting with nature and experiencing the thrill of remote expeditions."
Emirati photographer, Majed Al Katheeri, is present at ADIHEX as part of the Thuraya team as well and is set to display two of the company's satcom products during his photo gallery exhibit at the event. His collection documents raw moments captured in the midst of Kenya's Maasai Mara reserve where he was on assignment last month; Al Katheeri and his photography team were supported by Thuraya on their trip and relied on the IP+ data terminal and XT-PRO DUAL phone for remote, real-time connectivity while in the wild. The photographer will also hold a presentation on Friday, September 15, 2017, to detail his experience using Thuraya's equipment during his wildlife adventures.
Original published at: https://spacewatch.global/2017/09/uaes-thuraya-cygnus-telecom-show-floor-adihex-2017/