SpaceWatch Middle East COO Torsten Kriening took the chance to attend the Global Space Exploration Conference 2017 from June 6-9 in the Beijing International Congress Center, Beijing, China.
What is known about China's space industry and ambitions to space? Sure, we see the regular notices about successful Long March launches and hear about the doomsday scenario for the Skypalace that seems to be out of control. And of course we read that Change'5, Chinas lunar sample return mission 2017 is scheduled for November this year. But what do we know in detail about these missions from an international perspective? I have been part of the space industry for two decades, and my knowledge of China's space programmes and capabilities are limited, so I jumped at the opportunity to learn more about it.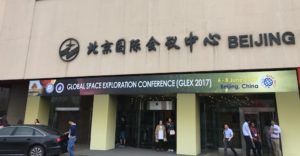 This was my first trip to Beijing and my first impression was overwhelming. Well organised, structured, clean and welcoming. This impression lasted until departure and will remain. It is fair to say that the weather during the conference week was perfect and air pollution was taking a break.
The conference was organised with professionalism by the IAF (International Astronautical Federation) team. I would like to express my thanks for the outstanding work of the media team: Emma Huis, Silvia Antolino and all their colleagues!
Over 1000 attendees made the journey to Bejing from 51 countries. Heads of Space Agencies, Cosmonauts, Taikonauts and Moonwalker Buzz Aldrin, came together to discuss the challenges of space exploration from all different perspectives.
Day 1 – Will Space Exploration lead us to a Global Space Agency?
The Global Space Exploration Conference officially opened with a welcome address by Li Yuanchao, Vice-President of People's Republic of China, who also read a participative letter from Xi Jinping, President of People's Republic of China stating that: "China is ready to strengthen cooperation with the international community for a better future to humankind". Lei Fanpei, President of the Chinese Society of Astronautics (CSA) and Jean-Yves Le Gall, President of the International Astronautical Federation (IAF), welcomed the delegates.
This Chinese call to cooperation has been the main focus of the Heads of Agency Plenary where the idea of a global space agency has been analysed. Roberto Battiston, President of the Italian Space Agency (ASI) praised this dream of a global space agency and the great impact it would have on mankind; he also added that this could be achieved by "the ultimate endeavour in front of us: sending men to Mars". However, Pascale Ehrenfreund, Chair of the Executive Board of German Aerospace Center (DLR), defended "the role that national space agencies have in fostering national businesses".
Afterwards, delegates attended the International Platform for Diversity and Equality in Astronautics (IDEA) Diversity luncheon, moderated by IAF President, Jean-Yves Le Gall. Yang Baohua, Vice President of the China Aerospace Science and Technology Corporation (CASC), presented the impressive results of China's space development contribution to 3G (Gender – Geography – Generation). The audience discussed, among many other topics, the role of female space leaders, the characteristics of the first astronauts' crew landing on Mars, the work of space nations and emerging space countries to foster diversity.
Delegates then attended a Plenary organised by the Chinese Host focusing on the key role played by China in international space cooperation with Cheng'e 4 mission.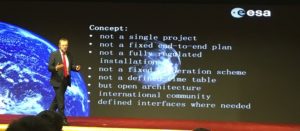 Finally, Jan Woerner, Director General of the European Space Agency (ESA) expressed the wish to invite the global space community to join a cooperative Moon Village concept.
Both Global Networking Forum (GNF) and Technical Sessions received a huge interest from the delegates and left us with the reassuring conviction that global partnerships are vital in order to ensure the successful inclusion of all countries in space exploration. All technical papers will be available online at the conference page over the coming weeks. These are worth reviewing.
Day 2: Mars – Moon: How do we get there?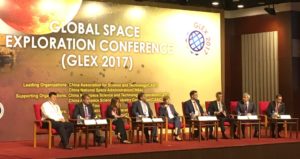 GLEX 2017 second day continued to look deep into the significance of global cooperation and international partnerships within space exploration. Indeed, an interesting presentation on the International Space Exploration Coordination Group (ISECG) outlined the work of fifteen space agencies that intend to advance the implementation of individual and collective space exploration.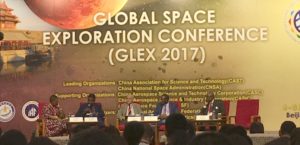 A collective effort is also at the core of the African continent, eager to create a continental African Space Agency that will be focused upon mapping Africa. Dr Valanathan Munsami, CEO of South Africa National Space Agency SANSA mentioned the status and current achievements of Square Kilometre Array (SKA) project.
During the day, another main question emerged from the talks: should we explore the Moon or Mars? While for Russia the interrogation should be centred on the direction rather than on the destination, for the United Arab Emirates (UAE) Space Agency, Mars is clearly the main focus with their ambitious mission "Hope" to explore Mars by 2021, as Khaled Al Hashmi, Head of Missions at UAE Space Agency mentioned. In the technical session Adnan Al Rais, Project Lead of the Emirates Mars Mission at MBRSC gave a positive status of the mission to an excited audience.
In terms of the Moon, Sun Weigang, Chief Engineer, China Aerospace Science and Technology Corporation presented the Chang'e 5 Lunar Probe mission's development. He firmly stated that "China is willing to jointly explore the boundless universe and peacefully utilise outer space together with countries all over the world".
NewSpace and commercial moon activities were frequently discussed. It is worth mentioning that Karsten Becker, Head of Electronics at PTScientists gave an update on their private 2018 Mission to the Moon.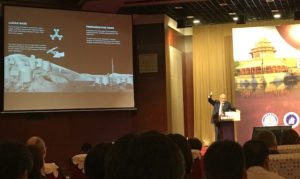 Last but certainly not least, the legendary Buzz Aldrin gave insights on his Cycling Pathways to Mars concept, focused on exploring.
Day 3: Space Exploration – A Common Goal
The last day of GLEX 2017 marked the end of an intense three-day conference where space exploration achievements, potentials and future directions were shared and discussed by its engaged actors.
Amongst them, Zhang Rongquiao, Chief Engineer of Lunar Exploration and Space Engineering Center, China National Space Administration (CNSA), and Wei Chuanfeng, Deputy Chief Designer of Tiangong-2 Space Laboratory of China Academy of Space Technology (CAST), presented China's deep space exploration undertakings. The Long March (LM) series launch vehicles and Yuanzheng (YZ) managed by CALT attest the vision that "space transportation system is the foundation of developing space technology", as declared by Lu Yu, Director of Science and Technology Committee at CALT. In that sense, CALT warmly welcomes all countries to participate in China space activities and commercial launch services. As for CAST, the attention is paid to the Chinese Space Station (CSS) 'Tiangong' planned for launch in 2022 which will be composed of three modules: Core Module, Experiment Module 1 and Experiment Module 2.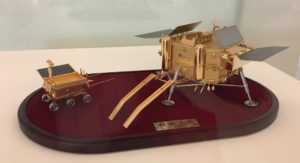 Space exploration will answer the fundamental questions that have baffled humans since the beginning: Who are we? Are we alone? Where do we come from? We have to keep exploring the universe but in order to face the huge difficulties and challenges of space exploration, a common vision is needed. GLEX 2017 leaves us with a clear and optimistic message: Space Exploration requires the global cooperation of all space actors worldwide. GLEX 2017 has opened the dialogue so let's continue the discussion at IAC 2017 in Adelaide: How do we unlock our imagination? How do we foster innovation?
My personal concluding remarks:
When I look back, with jetlag and extensive travels home, I am still speechless with the openness and the positive spirit that brought the community together.
China demonstrated, through many presentations, where they stand, what outstanding achievements they have made in the last decades and where they want to go. In all presentations, international cooperation was praised and was acknowledged as the base for success. However, if the journey to space is faced with difficulties due to the current challenges and circumstances, then China will move forward – with or without the international community.
China is off to the stars.
Original published at: https://spacewatch.global/2017/06/spacewatchme-review-glex-2017-beijing-china-off-stars/