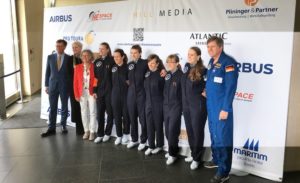 Since September 2016, SpaceWatch Middle East has been covering the Die Astronautin initiative. This once-in-a-lifetime opportunity, will give the successful candidate the opportunity to travel to and work on board the International Space Station. Not only does the programme emphasise the importance of levelling up gender equality in space, but it is also creating female role models that will inspire girls and young women to pursue careers in aerospace and aviation. During the mission, the astronaut will conduct a series of medical tests that will examine how the female body responds to zero gravity. The brain behind the project is Claudia Kessler, the CEO of German aerospace recruitment company, HESpace who is a passionate advocate of women in space.
Six candidates have been whittled down from the initial 400 entrants. The final two candidates, Nicola Baumann and Insa Thiele-Eich, were announced 19 April 2017 in Berlin by German astronaut, Prof Ulrich Walter, and in the presence of Brigitte Zypries,  German Minister of Economics and Prof Pascal Ehrenfreund, CEO of DLR. The two astronaut candiates will start a training programme in mid-2017 with the mission to the ISS slated for 2020.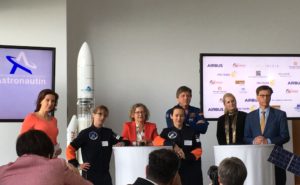 Now, Die Astronautin is looking for your help. The initiative is part privately funded, and part crowdfunded. The team has secured 66 percent of its target, and is looking for a final push to find backers to take it to its target by 28 April 2017. Can you help? In return for your support, there are many rewards up for grabs including everything from mission patches through to the opportunity to participate in an astronaut training day.
If you are interested in learning more about this project and how you can become involved, please visit https://www.startnext.com/en/dieastronautin. It is so important that women are offered the same opportunities as men in the space industry and this kind of programme highlights this. Space is the next frontier and we therefore need to know more about how women are affected in the space environment, and to encourage female interest in all things space.
Original published at: https://spacewatch.global/2017/04/die-astronautin-opportunity-get-women-space/