SpaceWatch Middle East is proud to announce that it has received generous financial support from the Secure World Foundation in order to ensure the best and most comprehensive coverage of space activities throughout the Middle East.
This support allows SpaceWatch Middle East to not only continue its unique coverage, but to also expand and deepen the quality of its reporting. Furthermore, SpaceWatch Middle East is proud to endorse the aims of Secure World Foundation in its pursuit and advocacy for the achievement of the secure, sustainable, and peaceful uses of outer space benefiting Earth and all its peoples.
Speaking on behalf of SpaceWatch Middle East, Dr. John B. Sheldon, Chairman and President of ThorGroup GmbH and publisher of SpaceWatch Middle East, said, "SpaceWatch Middle East is a unique publication that provides coverage of all space activities throughout the Middle East region, one of the most consequential and important regions in the world. The generous support of Secure World Foundation for SpaceWatch Middle East is invaluable to us as we seek to expand and deepen our coverage and give voice to the region's ambitions in, and concerns for, space. Moreover, I believe that the aims of SpaceWatch Middle East and Secure World Foundation are a natural and mutually beneficial fit, and I speak on behalf of the entire SpaceWatch Middle East team when I say that we are thrilled and proud to be working with the Secure World Foundation."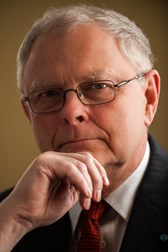 Dr. Michael Simpson, the Executive Director of the Secure World Foundation, said, "The Secure World Foundation is proud to be associated with SpaceWatch Middle East, a publication that provides excellent coverage of a part of the world often overlooked by other media. We look forward to building this relationship and using it as a tool to better understand space policies, programs, and interests of the Middle East. We also hope to be able to share information about SWF products and activities that might be of interest to those in the region, like SWF's new Handbook for New Actors in Space."
In the coming months, SpaceWatch Middle East will feature editorial content and other material produced by the Secure World Foundation team.
Original published at: https://spacewatch.global/2017/03/secure-world-foundation/