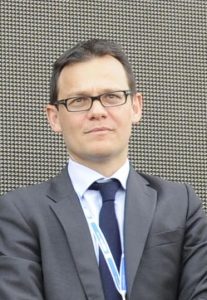 Arianespace is participating at the Satellite 2017 convention with its presence including participation in the launch service executives' roundtable discussion.
Stéphane Israël, Arianespace Chairman and Chief Executive Officer, also will receive the "Satellite Executive of the Year 2016" award.
Building on its new governance structure and the prospects with Ariane 6 and Vega C, Arianespace is tackling 2017 with an objective for the year of 12 launches and an order book worth over 5 billion euros. As a result, Arianespace is well prepared for the future at the service of its customers.
There will be three major highlights for Arianespace during the show:
The latest Vega launch (VV09), which will orbit the Sentinel-2B observation satellite for the European Commission within the scope of a contract with the European Space Agency (ESA). The launch is scheduled for Monday, March 6, with liftoff at 8:49 p.m. (local time in Washington, D.C.), from the Guiana Space Center in French Guiana (South America). This will be Arianespace's third launch of 2017, and the first using the light-lift Vega launcher.
Satellite Executive of the Year 2016 award presented to Stéphane Israël. This top industry award from Via Satellite magazine is a clear recognition of Arianespace's excellent performance in 2016, from both the operational and business standpoints. The award ceremony will take place on Wednesday, March 8 during a lunch that will bring together all key players in the launcher and satellite sectors (12:00 noon, in Ballroom BC).
Stéphane Israël's participation in the "Commercial Launch Service Executives" roundtable discussion on Wednesday, March 8 at 4:15 pm, local time (Room 202).
Arianespace approaches the future with confidence
In a context of increased competition, the European launcher sector is evolving. Following the CNES French space agency's transfer of its shares in the company last December, Airbus Safran Launchers is now the majority shareholder with a 74% stake. The balance of Arianespace's shares, held by companies in the European launcher industry, remains unchanged. Arianespace continues as a full-fledged company, with a neutral stance in relation to all satellite manufacturers, and as the sole contact for its customers. This new governance structure enables Arianespace and its industrial partners to be more agile in coping with changes in the market, all for the greater benefit of its customers.
And it is in this context that Arianespace already is committed to the commercialization of the next generation of European launchers: Vega C and Ariane 6, whose first flights are planned in 2019 and 2020, respectively.
With the strength of these developments and prospects, Arianespace is preparing the future at the service of its customers.
Original published at: https://spacewatch.global/2017/03/arianespace-set-participate-launch-service-executive-roundtable-satellite-2017/