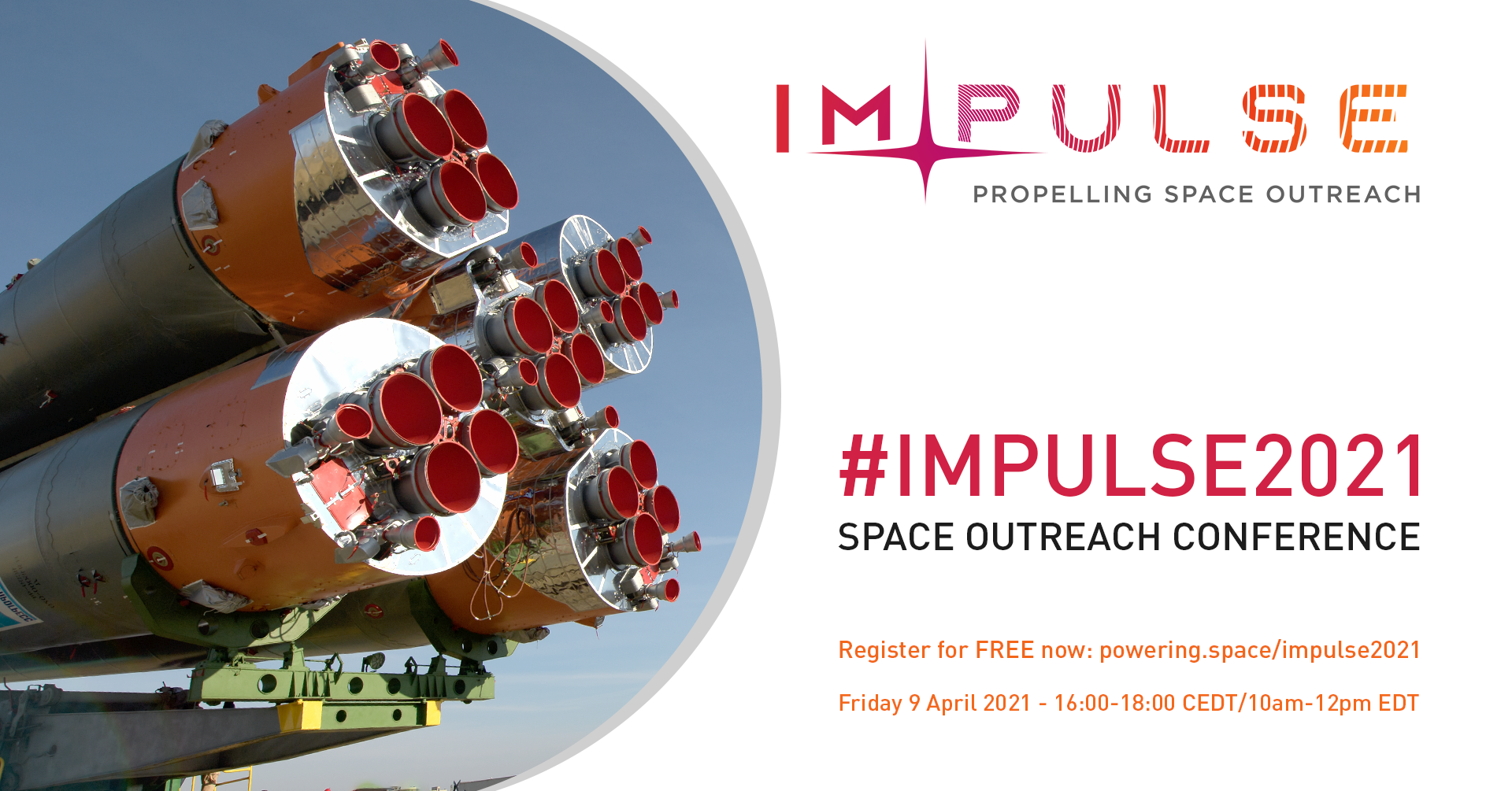 #Impulse2021 is a new conference, dedicated to supporting space communicators to learn, grow and meet!
Date: Friday 9 April 2021
Time: 16:00 – 18:00 CEDT (15:00-17:00 BST/10am-12pm EDT)
Place: Virtual! Join us online
Why should you attend?
With this conference, we bring together the space outreach and communication community to learn from and support each other in communicating space to a diverse set of audiences.
From masterclasses on effectively using social media to learning more about how space communication works in different countries and hearing best practices on how to shape our messages, #Impulse2021 is there to help space communicators, like you, perform better!
Topics we aim to cover:
Using space outreach tools: tips and tricks
Sharing lessons learned and best space outreach practices
Celebrate diversity in communication styles and audiences
Create a knowledge network for anyone involved in space outreach
Register for this FREE online conference NOW!
Who should attend?
This conference is open to ANYONE involved in or interested in space outreach. This specifically includes:
Space outreach professionals
Space marketeers
Space journalists
Space social media communicators
Space bloggers/vloggers
Space writers
Space influencers
Space event organisers
Science communicators
Space photographers, graphics designers
Space artists
Students in any of these fields
Anyone who loves to talk about space
Anyone interested in space marketing and outreach
Our definition of space is very wide, so we like to include fields like outreach, marketing, social media, art, space technology, space data, astronomy, astrophysics, astrobiology, astrochemistry, cosmology, government space, commercial space, space science centres and musea, space NGOs, university space projects, space startups, space law, space history, space events, space societies, private space exploration, model rocketry, and a few things more. The more unusual the outreach, the better!
Call for speakers, presenters and panellists
Are you interested in speaking, presenting or being in a panel at this conference? Let us know how you would like to contribute at [email protected] and we'll be in touch!