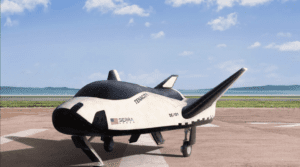 Edinburgh, 18 May 2022. – The Federal Aviation Administration (FAA) granted Huntsville International Airport (HSV) a commercial space vehicle reentry license, the airport said. HSV, located in North Alabama, is the first commercial airport in the U.S. to be approved as a reentry site for a space vehicle landing.
HSV submitted the application for the reentry license in November 2021. The approval depended on the FAA finding no significant impact during its Environmental Assessment. The assessment included examining air space, noise, historical preservation, wildlife and impact to waterways in the area.
The FAA license is specific to Sierra Space's Dream Chaser spaceplane only and any other space reentry vehicles would require additional FAA licensing. 
Sierra Space has already been awarded six missions by NASA to resupply the International Space Station. The cooperation depends on obtaining the FAA License to Operate a Reentry Site and a Reentry Vehicle License. HSV's space vehicle reentry license means that Dream Chaser could potentially land at the airport from 2023.