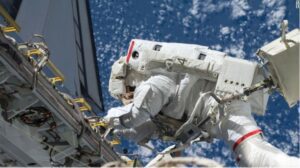 Edinburgh, 10 September 2021. – The smoke alarm went off yesterday in Russia's segment of the International Space Station (ISS) while astronauts smelled burning plastic on board, Roscosmos and NASA said. The news comes after small cracks have been found in the Zarya module just last month.
The smoke detector was triggered during automatic battery charging, Roscosmos said. The incident happened at 01:55 GMT ahead of a scheduled spacewalk, which eventually took place as planned. The crew replaced and turned on an air filter and once the air was clear, they went back to sleep, Roscosmos reported. The source of the smoke has not been identified.
ESA astronaut Thomas Pesquet, who is to become the first French ISS commander on 4th October, said the smell wafted to the US segment as well.
As all systems were operating normally, astronauts Oleg Novitskiy and Pyotr Dubrov began their spacewalk at 14:51 GMT yesterday. Ending at 22:16 GMT, the walk lasted for seven hours and 25 minutes. Novitskiy and Dubrov completed cable routing work, installed handrails and microbe exposure canisters outside the Nauka science module.
The Russian segment of the ISS has raised several safety concerns recently. In 2019, they discovered an air leak in the Zvezda module and in July, the malfunctioning thrusters of Nauka tilted the ISS out of orbit. Russia is planning to leave the ISS after 2024 due to ageing hardware while working on its own orbital station.