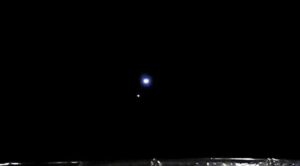 Edinburgh, 7 September 2021. – The Chang'e-5 orbiter module is currently on its way back to the Moon following deep space tests according to reports.
Last year, the orbiter delivered a return module containing 1.731 kg of lunar samples to Earth before setting off to deep space.
Chang'e-5 orbiter was in orbit around Lagrange point 1 (L1) where it carried out orbit control tests and observations. The orbiter has left its orbit around L1, however, and is expected to perform a lunar flyby on 9th September. Potential manoeuvres of the orbiter's extended mission depend on how much propellant it has remaining. Chang'e 5 could potentially use the flyby to set itself on a trajectory to asteroid 469219 Kamoʻoalewa. The latter is the destination of China's near Earth asteroid sample-return mission of 2024.
The samples previously collected by the orbiter from the near side of the Moon are currently under analysis. NASA expressed they had no plans to trade their Apollo-era lunar samples with those returned by Chang'e-5.
Beijing Aerospace Flight Control Center is responsible for telemetry, tracking and commanding of the spacecraft. They have not yet provided any information on the future plans for Chang'e-5. China is planning another lunar sampling mission, Chang'e-6, in 2024 as part of the joint China-Russia International Lunar Research Station.