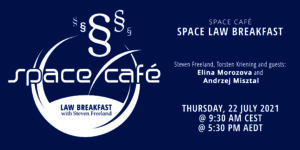 Join SpaceWatch.Global's Space Café "Law Breakfast with Steven Freeland" #04 series where global space law experts discuss the legal issues from everyday space activities.
This event will take place on 22 July 2021 at 9:30 am CEST / 5:30 pm AEDT.
Space Café "Law Breakfast with Steven Freeland" will analyse current space developments with a legal focus. It will, at the same time discuss and 'demystify' the law for everyone.
In this next episode Host Steven Freeland, Emeritus Professor of International Law at Western Sydney University, Sydney and Professorial Fellow at Bond University, Australia and Co-Host Torsten Kriening, SpaceWatch.Global's Publisher and their invited guests will discuss a number of issues including:
In this 60th anniversary year of the first human in space, the idea of commercial human space flight is now a reality. This extends beyond astronauts and various companies are developing business models and technology for paying customers to 'experience space'. Richard Branson and Jeff Bezos have planned their trips in the next few weeks.
In addition, we will talk about the international/multilateral process of governing space, and compare that with other areas such as the Arctic, Antarctic and High Seas. Each of these are unique and we will explore what makes them different and why the right governance process is so important.
We will discuss what this means for law, space and humanity with Elina Morozova and Andrzej Misztal, two pre-eminent international experts in space law and policy.
Of course, we will find out the one defining word that our guests believe best sums up the wonders of space/space law, and so much more ….
And all of this at a special café over breakfast!
Don't forget your coffee and pastry and join us for our next breakfast. We really look forward to seeing you there.
SpaceWatch.Global is a Switzerland-based digital magazine and portal for those interested in space and the far-reaching impact of the space sector.
This Space Café"Law Breakfast with Steven Freeland" will be conducted in English. Reserve your place today.
The previous episodes can be seen: Episode01, Episode 02, Episode 03