by Luisa Low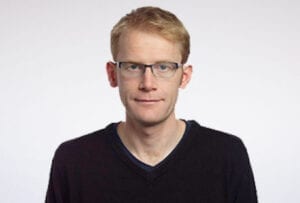 During this week's Space Café, SpaceWatch.Global publisher Torsten Kriening spoke with Will Marshall, a scientist and the CEO and Co-Founder of Planet, the world's largest Earth observation satellite network delivering a near-daily global dataset. It's at Planet where, for the past decade he has led the company in its development of advanced technologies that provide high-resolution imagery and high-accuracy analysis of the Earth's environment.
It's hard to think of many who can match the pedigree of Will Marshall's CV. Since beginning his space career in 1997, Will has worked as a scientist developing low-cost satellites for NASA, lectured at the ISU, and was Chair of the Space Advisory Council. Having completed degrees at the universities of Alabama, Leicester, California, Oxford and Harvard, he has also worked as an intern and trainee at NASA JPL, Caltech and the European Space Agency.
Earlier this week, SpaceWatch.Global published an opinion piece by Planet Senior Director Dr Agnieszka Lukaszczyk, who argued that earth observation can help achieve the European Green Deal. During this week's episode, Torsten and Will discuss this idea further – deep-diving into how the use of commercial space imagery can help Europe achieve its ambitious environmental goals.
How can space imagery help the EU achieve its Green Deal?
The European Union aims to become the first resource-efficient and competitive economy without net emissions of greenhouse gases by 2050.
It will do so by placing an intrinsic value on natural capital – the air we breathe, the water we drink, the fish we eat and the wood we build with. Will says this is an approach the world must quickly adopt to prevent further loss of biodiversity and halt climate change.
"It's a bold initiative of the European Union to transition the economy to a sustainable one. It's something that all the entire global economy has to do. By not taking that [natural capital] into account and assuming that's free, the economy is not pricing in the effects of disturbing those ecosystems, which both provide human services."
Earth-imaging companies, like Planet, can help the EU's initiative by providing regular, high-resolution Earth imagery data to track the world's climate, environmental changes and resource degradation. The company also provides data to help minimise the impact of urban planning and large-scale infrastructure projects on the environment.
They also have the role of "forest watchers", tracking and monitoring deforestation by providing high-resolution imagery of the world's forests, with satellites so precise they can see down to the individual canopy level.
"As opposed to just waking up at the end of the year, and finding there's a big hole in the Amazon, Congo or an Indonesian forest, we can actually stop it in the act."
Planet also assists with the "greening" of the agricultural industry – a central facet of the European Green Deal – by providing data on crops and monitoring for farms encroaching on nearby forests. Planet's data can also help prevent overfishing by monitoring biodiverse areas and tracking illegal fishing.
Earth imagery means we are no longer "acting in the blind"
Although learning about Earth through satellite imaging is nothing new, Planet has gone further than any organisation before them, by providing high-resolution, regular imaging of Earth's environment and human activity.
Planet operates the largest Earth-imaging constellation ever launched into orbit, which includes a fleet of 21 high-resolution satellites with the in-built ability to zoom in to target locations as close as 50 centimetres.
This resolution and accuracy enables provision of quality data, but to create end-user satellite images it requires a high level of analysis. To do this, Planet uses machine learning and artificial intelligence to provide information on crop yields, biomass, roads and buildings.
It's with these tools that Will believes the EU will be able to achieve its Green Deal within the next 29 years.
"We have incredible tools to bring to bear to stop [climate change], reverse it and protect remaining biodiversity… so we need to act fast. But now we have incredible new tools like this data set that didn't exist."

"I can imagine our grandchildren could say: "Hey, how did you manage the earth before you had a daily imagery of it – you were acting in the blind?" I think that's true… but now we have this tool."
To listen to Will Marshall's insights into space sustainability, you can watch the full program here
Space Cafe is broadcast live each Tuesday at 4 pm CEST. To
subscribe
and get the latest on the space industry from world-leading experts visit – 
click here.
Luisa Low is a freelance journalist and media adviser from Sydney, Australia. She currently manages Media and Public Relations for the University of Sydney's Faculty of Engineering.