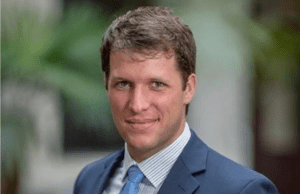 This Space Café Spain featured Carlos Entrena, founder and CEO of Plus Ultra Space Outposts in conversation with Izan Peris, a friend of SpaceWatch.Global and fellow space entrepreneur.
Does Spain have a role in the new lunar economy?
Carlos is a trained theoretical physicist who found an unusual way into the commercial space industry. After pursuing a position as an engineer, he decided to explore the business side of the industry. After studying at the International Space University and interning at NASA, he moved on to work for Mckinsey & Co as a management consultant. He then also worked at the german startup Kleo Connect, before relocating to Spain and founding Plus Ulta.
Plus Ultra is one of the many Spanish companies working to be a key player in the Newspace race to the Moon. Plus Ultra aims to become the backbone of the lunar economy by deploying infrastructure that enables lunar development. Their first project, Harmony, is the only lunar system to provide high-speed communications (>100 Mbps) and GPS-like navigation, on-demand, anywhere on the Moon.
Plus Ultra lunar customers will be able to maximize their return on investment and minimize their cost and risks with Harmony services. Customers will include operators of spacecraft and rovers on the Moon (surface and orbit). Harmony will provide services on par with those available on Earth: >100 Mbps connectivity per user, GPS-like navigation, on-demand service. Commercial services will begin in 2024 with the launch of the first spacecraft of the constellation.
When asked about financing, Carlos had a clear message to investors: "be patient". "Investors are expecting 3-5 year returns, which they see in other industries. That is just not possible when deploying infrastructure in Lunar orbit, where timelines can extend up to 10 years." Carlos mentioned they are currently in final stages of a fundraising round, which, when announced, will join other spanish spacetech firms who recently announced fresh financing such as Satlantis (14M€), Pangea Aerospace (3M€), Ienai Space (1M€) and Sateliot (1.4M€)
To wrap up, Carlos summarized the landscape of the Spanish space industry of being very capable, but lacking visibility: "We have scientific instruments in all martian rovers, for instance, but not many people know about it".
Maybe the recent news about the establishment of a National Space Agency by minister Pedro Duque will shed some light into these brave but humble european industrial players.
Want to participate in the next Space Cafe Spain? Get in touch with our team!
This Space Café Spain was conducted in Spanish on 28th May 2021.
SpaceWatch.Global
 is a Switzerland-based digital magazine and portal for those interested in space and the far-reaching impact of the space sector.
To listen to Carlos Entrenas insights, you can watch the full program here
To subscribe and get the latest on the space industry from world-leading experts visit – click here.